Diageo's Pimm's Cider Cup new flavour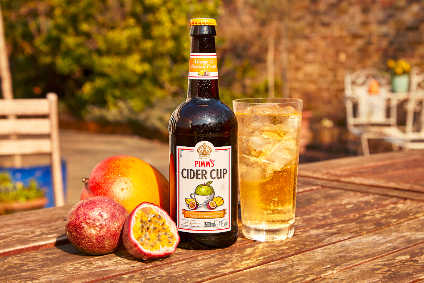 Category - Cider, flavoured cider, 4% abv
Available - From this month
Location - UK only, on- and off-trade
Price - SRP GBP2.29 (US$3.25) per bottle
Diageo has launched three new flavours under its Pimm's Cider Cup brand.
Summer Fruits, Mango & Passionfruit and Plum & Red Apple join last year's Strawberry & Cucumber innovation. According to Diageo, the Strawberry & Cucumber variant became the number one selling cider innovation after eight weeks in the UK market.
"Our insight shows us that frequent cider drinkers are more likely to experiment by trying something new," said Claire O'Neill, innovation commercialisation manager at Diageo. "With its truly different, less sweet and more fermented taste, the newly extended Pimm's Cider Cup range provides innovation that taps into this lucrative category and we're confident it will drive sales for retailers as we look forward to a fantastic summer ahead."
Pimm's Cider Cup was launched in March 2015.
---