Diageo's Mortlach 14-year-old Alexander's Way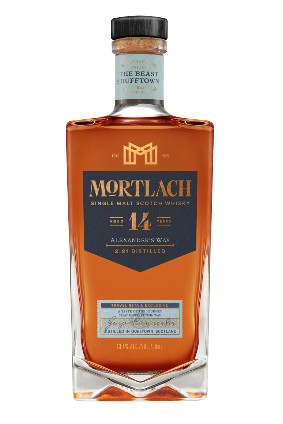 Category - Spirits, whisky, Scotch, Speyside, single malt, 43.4% abv
Available - From this week
Location - Global Travel Retail, initially in Taiwan ahead of roll-out to "other markets"
Price - SRP of US$66 per bottle
Diageo has added a fourth iteration to the recently-launched aged range from its Mortlach single malt Scotch brand. Alexander's Way is a 14-year-old expression of the Speyside whisky, which will sit alongside the 12-, 16- and 10-year old Mortlachs unveiled earlier this year.
All four will initially launch in Taiwan's Global Travel Retail channel, ahead of a broader roll-out in GTR in the coming months.
The 14-year-old is named after Dr Alexander Cowie, who created Mortlach's "2.81 distillation process" in 1896. The liquid, described by Diageo as the spiciest in the Mortlach range, has been aged in ex-Sherry and ex-Bourbon casks, along with "rejuvenated" casks.
"Passenger numbers continue to grow worldwide," said Diageo's Global Travel marketing & innovation director, Anna MacDonald. "In Taiwan alone, an estimated 38m new passengers are travelling each year.
"In addition, malts are forecast to grow at a faster rate than blends globally, with Asia highlighted as the region likely to see the fastest growth in the next two years, making this the perfect location to launch."
Are spirits brand owners driving Global Travel Retail customers to distraction? - Click here for a just-drinks comment
---