Diageo's Crown Royal Noble Collection Aged Rye 16 Years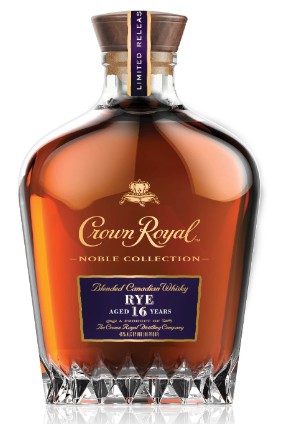 Category - Spirits, whisky, blended, Canadian, 45% abv
Available - From this month
Location - The US
Price - SRP of US$69.99 per 75cl bottle
Diageo has added a fifth expression to the 'Noble Collection' series from its Crown Royal blended Canadian whisky brand. Crown Royal Noble Collection Aged Rye 16 Years is described as having a "bold and spicy rye aroma upfront softened by creamy vanilla, sweet caramel, and hints of stone fruit".
Released on an annual basis, the Noble Collection highlights Crown Royal's various techniques and styles from the brand's master blenders. Last year's expression was Crown Royal Fine De Luxe - a whisky that had been finished in French oak casks.
The US-only series debuted in 2016 with Cornerstone Blend, with a wine barrel-finished expression following a year later. In 2018, the company released a 13-Year-Old Blenders' Mash.
Why aged spirits should be wary of opaque low- & no-alcohol trend - Click here for a just-drinks comment
---