Diageo has opened its new North American headquarters as it looks to become more "future-focused".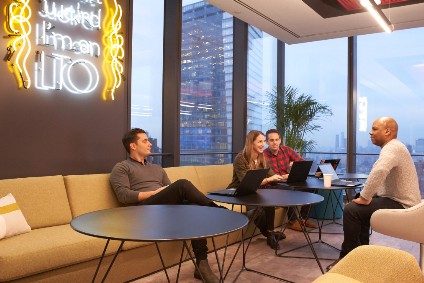 The company, which revealed plans to make the move last year, has this week moved its HQ from Norwalk, Connecticut, to 3 World Trade Center in Lower Manhattan. The move follows last July's announcement in the UK that Diageo will leave its northwest London HQ to move to the heart of the capital.
"As a company whose brands are part of a legacy more than 300 years in the making, we know from experience that embracing the power of change is core to our success," said Deirdre Mahlan, president of Diageo North America. "This move represents a significant shift, not just in where we work, but how we work, enabling us to eliminate boundaries, be bolder, more future-focused, and closer to a nucleus of diverse consumers."
The open plan New York office also features a 41st floor showcase bar, called Bar Deco.
According to Diageo, the move brought 350 new jobs to the city, while "preserving roughly 150 existing Diageo jobs in New York City".
"Situating ourselves in the heart of one of the world's most exciting cities allows us to expand access to diverse talent pools and capabilities," said Laura Watt, EVP, Human Resources, Diageo NA. "With our new space we sought to create an amazing experience for our people, and a place where they could do the best work of their lives, while celebrating life."
Technology, wellness and sustainability also feature at the new space.
"The minute you react to short-term volatility, that's when businesses get into trouble" - just-drinks speaks to Diageo CEO Ivan Menezes
---