Diageo has announced the release of its lower-abv Ketel One Botanical range to the UK market.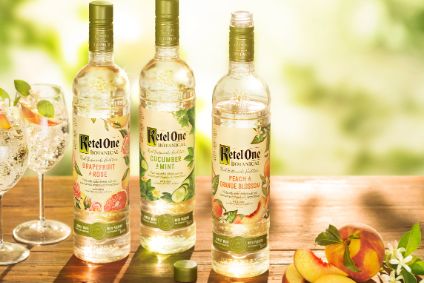 The company said today that the 30% abv Ketel One Botanical will roll out in three flavours: Ketel One Botanical Peach & Orange Blossom, Ketel One Botanical Cucumber & Mint and Ketel One Botanical Grapefruit & Rose. Diageo first released the brand in the US market last year, with the same three flavours.
The products see Ketel One Vodka re-distilled with botanicals at the Nolet family's distillery in the Netherlands. The product is then "infused with naturally-extracted essences of... fruits and botanicals".
Ketel One is an 11-year-old joint-venture between Diageo and the Nolet family.
"As it becomes clear that consumers want better drinking options, Ketel One Botanical and the [signature serve] Ketel One Spritz offer a thoughtful choice for consumers looking for something new from their summer serve," said master distiller Bob Nolet. "It is the perfect alternative calorie-conscious addition to lower abv cocktail menus.
"We've watched the gin category boom in recent years, introducing new and herbaceous flavours. Premium vodka continues to grow alongside this."
Ketel One Botanical will roll out to the on- and off-premise from mid-March.
In 2015, Pernod Ricard launched an RTD brand in Australia called Absolut Botanik.
According to GlobalData, the UK vodka category is forecast to reach US$6.4bn in by 2022.
---