Cuervo's Bushmills 30 Year Old New American Oak Cask single malt Irish whiskey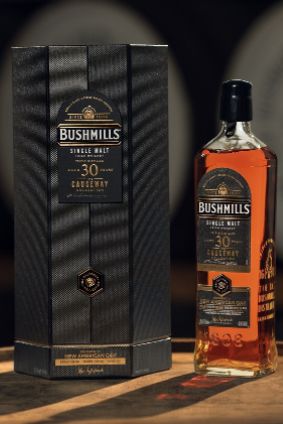 Category - Spirits, whiskey, Irish, single malt, 48.4% abv
Available - From 17 December
Location - Global Travel Retail, from outlets at Cork and Dublin airports
Price - SRP of EUR700 (US$848) per 70cl bottle, limited to 432 units
Cuervo has released details of the oldest iteration in the recently-launched 'The Causeway Collection' from Irish whiskey brand Bushmills.
Names after The Giant's Causeway on the coast of Northern Ireland, the ten-strong range includes 30 Year Old New American Oak Cask, which will be available exclusively through the Travel Retail channel at Cork and Dublin airports in Ireland. The series kicked off earlier this month and features a UK-only 2001 Feuillette Cask expression.
The latest release comprises single malt whiskey that has spent 14 years in Oloroso Sherry butts and Bourbon barrels before being 'finished' for 16 years in new American oak casks. Of the 432 bottles to be made available, 100 will be released this year with the remainder to follow in 2021.
"Releasing this special single malt into Global Travel Retail is a testament to our commitment to the market and an example of how we are always looking to give travellers something special they can't find anywhere else," said Roy Summers, head of GTR at Cuervo's Proximo division.
Irish Whiskey - Global Volume Trends 2015-2024
Source: GlobalData
The Irish whiskey category has enjoyed a healthy last five years but is expected to drop back in 2020 before returning to growth next year. According to figures from GlobalData, volumes broke 7.5m nine-litre cases last year, posting a Compound Annual Growth Rate of 4.6% between 2015 and 2019.
While Irish whiskey volumes are expected to have dipped by 9.7% this year against 2019, between 2021 and 2024, GlobalData estimates a CAGR of 3.6% over the four-year period.
Why craft whisky/whiskey will never be the same again - Click here for a just-drinks comment
---