Constellation Brands' Modelo Chelada Limón y Sal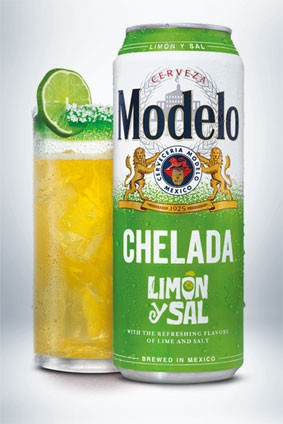 Category - RTD chelada beer, 3.5%
Available - From this month
Location - The US, available nation-wide
Constellation Brands has added another flavour to its Modelo range of chelada beers. Modelo Chelada Limón y Sal joins two other chelada SKUs in the Constellation US Modelo portfolio. A chelada is a Mexican beer cocktail, traditionally made with tomato, salt, lime and spices.
The group said its chelada beers are driving the category in the US. It added: "Beyond the chelada segment, this latest innovation will continue to drive Modelo's overall brand growth, as it is the number one growth family in the beer category."
Modelo Chelada Limón y Sal joins Modelo Chelada Especial and sweet and spicy Modelo Chelada Tamarindo Picante, which was released in 2017. All three beers are about 3.5% abv.
"Consumers today are looking for authentic experiences and new flavours," said Greg Gallagher, VP of brand marketing for Constellation's beer division. "As our first non-tomato-based chelada, Modelo Chelada Limón y Sal provides both by delivering this new refreshing flavour combination based on one of the most traditional Mexican chelada recipes."
Top US Brewers in 2018 - The facts
---