Constellation Brands' Corona Refresca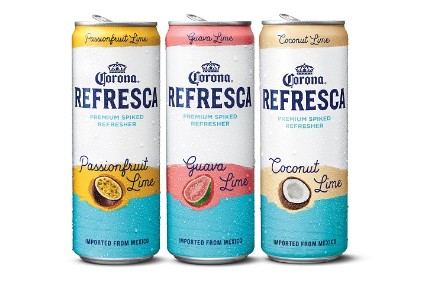 Category - Flavoured malt beverages, 4.5% abv
Available - From this month; full roll-out in May
Location - US
Price - See below
Constellation Brands has given an official launch to Corona Refresca, the Corona brand's first flavoured malt beverage (FMB).
Refresca will initially roll out in selected US markets in three flavours - Passionfruit Lime, Guava Lime and Coconut Lime. A nation-wide launch is scheduled for early May.
Guava Lime and Passionfruit Lime will each be available in six-packs for an SRP of US$9.99. A 12-pack that includes all three flavors will be available for $16.99.
Corona Refresca was sent to test markets in the US last Spring as Constellation Brands explored the non-beer category. At the same time, the company unveiled a Svedka Spiked Premium Seltzer, which was given a full launch in June.
Both products sit in the alternative beverage alcohol (ABA) space, which then-CEO Rob Sands said last year can be "incremental to the beer category".
Constellation has launched a number of innovations for the Corona brand, which it owns the rights to in the US. Anheuser-Busch InBev controls the Mexican brand in all other markets.
Last year, Constellation launched the low-carb Corona extension Premier to the US and has already hailed it as a success. In November, Constellation's CMO James Sabia said the company had spent about US$35m on the introduction of Premier.
Where can RTD and cider categories find future growth? - Research in Focus
---