Category - Spirits, whisky, Scotch, blended, 46% abv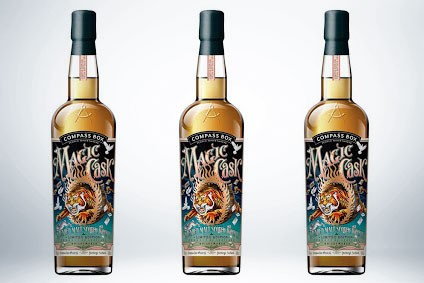 Available - From this week
Location - The UK prior to world-wide availability
Price - SRP of GBP145 (US$161) per 75cl bottle, limited to 5,538 units globally
Scotch Whisky blending house Compass Box is releasing a limited edition Oloroso Sherry-seasoned iteration.
The blended Scotch is the second under the company's 'Magic Cask' brand name, following a Madeira-seasoned expression released back in 2006. On the back of last week's roll-out in the UK, it will be available globally from January next year.
"We have had samples of whisky from the lost Imperial Distillery in our blending room for some time," said Compass Box whisky maker James Saxon. "Then, last year, we discovered cask #2 amongst samples drawn from our 2016 Sherry cask maturation experiment that, when combined with the parcel from the lost distillery, created an exceptionally rich and layered blended malt Scotch whisky."
The release looks to strengthen Compass Box's position as a category disruptor after the Scotch Whisky Association's relaxation of production rules last year. Magic Cask joins limited-edition whiskies Hedonism Felicitas, Rogues' Banquet and Peat Monster Arcana, which were released earlier this year to celebrate Compass Box's 20th anniversary.
Bacardi acquired a minority holding in Compass Box five years ago through its John Dewar & Sons Scotch division.
Why the latest sexism row will be a watershed moment for whisky - click here for a just-drinks comment
---