A Royal Navy navigator turned beverage owner has rolled out a non-alcoholic version of the Japanese chu-hai spirit drink.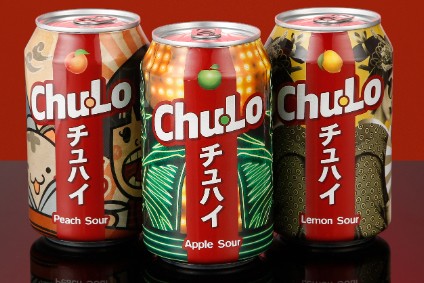 Stephanie Buttery, who continues to serve in the UK armed forces, launched her company Angels Share MCR five months ago with just GBP10,000 (US$13,300) in her pocket, and has already doubled initial sales targets. Angels Share makes Chu Lo, a low-sugar soft drink that mimics the flavour of chu-hai but without the alcohol.
Buttery came up with the idea after discovering chu-hai while on shore leave in Japan last year. With her start-up funds, Buttery founded Angels Share in July and started working with a UK flavour house on taste profiles.
"I found we can achieve the flavour of a chu-hai without the alcohol," Buttery told just-drinks today. "The UK doesn't need another canned cocktail and this gives consumers a unique flavour, a sour profile that doesn't rely on stevia."
Since launching Chu Lo to the market last month, the Manchester-based Angels Share has secured ten on-premise accounts in the city and is set to partner the brand with Deliveroo's Editions kitchen concept. Buttery is also in talks with a UK Japanese restaurant franchise. The drink targets both adults and children, and Buttery said the taste is purposefully complex to appeal in the on-premise.
"It's not just another fruit juice," she said.
The Angels Share founder said the experience of her Royal Navy day job has set her up for a career in the beverage business. She fits in three days of work on Chu Lo around a part-time job as a navigator.
"I had expected to make GBP3,000 in sales in the first six months, but we've made double that," said Buttery, who leads a team of five on the project. "My favourite time in the navy was when I captained a small vessel. Running a business is exactly the same; it's about building performances and leading people."
The Chu Lo range comprises three flavours, each with different packaging styles. Buttery wants to change the packaging annually to make room for limited-edition designs from Japanese artists and to keep consumers interested.
"It makes the drinks collectible, kitsch and cool, and also develops the brand as it grows and changes with taste," Buttery said. "Coca-Cola packaging looks a bit out of date now but this will keep Chu Lo relevant. People want an experience, not just a drink anymore."
Chu Lo has an RRP of GBP1.25 per can and sells in bars and restaurants for GBP2.50.
The soft drinks category in 2019 - just-drinks' Review of the Year
---