Celsius Holdings' Naturals Orange Pomegranate and Strawberries and Cream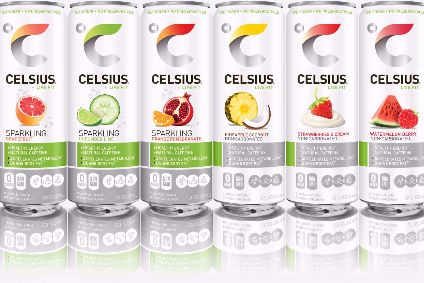 Category - Functional drinks
Available - From this month
Location - US, nation-wide
Price - TBC
Fitness drinks firm Celsius Holdings has released two new flavours under its Naturals line. Sparkling Orange Pomegranate and non-carbonated Strawberries and Cream join the existing flavour lineup of sparkling Grapefruit and Cucumber Lime and non-carbonated Pineapple Coconut and Watermelon Berry.
The Naturals line uses 100% natural caffeine from green-coffee-bean extract and an all-natural sweetener, the firm said.
The new products launched at the Natural Products Expo East Show in Baltimore, Maryland, last week.
"We are bringing true innovation to the natural channel and consumers are responding – loud and clear," said John Fieldly, interim CEO & CFO. "We just brought onboard a natural product specialist, Paula Burke, as our director of natural accounts. Paula has deep experience in building natural brands and brings significant muscle to what has already been a fantastic start."
---