FY net losses at EUR72.9m (US$80.8m) compared to EUR47.4m profit in year prior
Net sales drop 16% to EUR559.5m
Operating losses hit EUR55.1m compared to EUR64.8m profits in year prior
C&C Group posted a full-year loss as Brexit and a second write-down on its US cider business hit performance.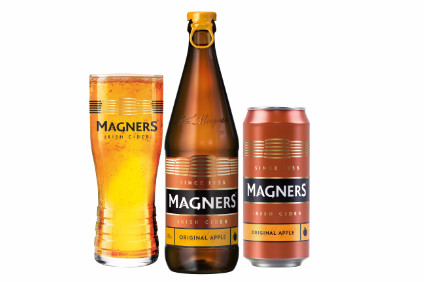 Net losses for the 52 weeks to the end of February were EUR72.9m (US$80.8m) compared to a EUR47.4m profit in year prior, C&C Group said today. The Ireland-based group revealed that last June's Brexit vote cost the company EUR8m over the financial year because of the subsequent decline in the value of Sterling.
Meanwhile, in the US, where the company has struggled since acquiring Vermont Hard Cider for US$305m in 2013, C&C Group wrote down assets by EUR129m after US volumes dropped by a third in the financial year. The carrying value of C&C Group's Vermont business is now EUR45m.
It was the second write-down for C&C Group's US business since the Vermont purchase. In May 2015, the company took a EUR150m impairment charge.
The challenges saw C&C Group's net sales drop by 16%, but even after stripping out the currency headwinds and US difficulties, net sales for the company were down 7% in the year.
C&C Group's core brands delivered better news, with combined volumes for Magners, Bulmers and Tennent's up 3%. The company also highlighted a 12% increase in brand investment across its core range. The three brands showed better overall performance, with net sales down 2% for the year and "the trend moving in the right direction", C&C said.
Looking ahead, the company said "political uncertainty" in its markets means it remains cautions on the coming financial year. "However, our core brands of Bulmers, Magners and Tennent's are well positioned to convert their volume momentum in FY2017 into revenue and value growth in FY2018."
CEO Stephen Glancey also said C&C Group's expanded distribution deal with Anheuser-Busch InBev in the UK "has the potential to drive volume and value in Magners for years to come as the category rationalises and distribution synergies are delivered".
As part of a deal announced in December, AB InBev is to handle the sale and trade marketing of C&C Group's cider portfolio, which includes Magners, in England, Wales, Isle of Man and Channel Islands. It will also brew and package an increased volume of AB InBev beers at its Wellpark Brewery in Glasgow.
C&C Group warned the market it was headed for a profits drop in a trading update in March. Today's share price remained relatively unaffected by the results, up slightly in morning trading.
To read the company's full results, click here.
---