Carlsberg has spent GBP15m (US$19.2m) on its latest UK campaign as it tries to create "thumbstoppable" content for today's saturated digital market.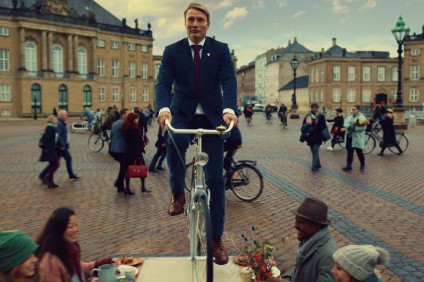 The company hired Hollywood star Mads Mikkelsen for the new "Danish Way" TV ad, due to air from Friday. Shot over four days in Copenhagen, the ad is the centrepiece of a new UK-only campaign for Carlsberg Export that will also include short-form content on Carlsberg's social media channels.
Speaking to just-drinks at the London launch of the ad yesterday, senior brand manager for Carlsberg UK Lynsey Woods said the company wanted to make high-quality content that would attract consumers scrolling through videos on their social media feeds. She said the video content market is extremely crowded, but of poor quality. She said brands can stand out by using striking visuals to make the immediate impact needed to make consumers stop and view the content.
The GBP15m campaign spend follows a financially tough 24 months for Carlsberg in the UK. In November 2015, Carlsberg CEO Cees 't Hart said "performance has worsened" in the UK market after retail giant Tesco pulled a number of Carlsberg SKUs from its UK shelves. The company said it would restructure the business with an aim to "reduce capacity and costs".
In June last year, Carlsberg said it would cease to run its own distribution services in the UK.
In the new ad, Mikkelsen, who is from Denmark, cycles through Copenhagen asking the question: "What makes Danes so happy?" The ad showcases the new Carlsberg Export packaging and glassware rolled out to the UK as part of a brand relaunch last year.
In the UK, Carlsberg Export is produced at the Carlsberg's brewery in Northampton.
The TV campaign will run for an initial four week burst until 15 May, with a second burst in September featuring specially-created follow-up ads. The commercials will also appear on video-on-demand and in cinemas across the UK for "an extended period", Carlsberg said.
The brewer said the campaign is aimed at confronting the long-term decline in the lager category by helping key consumer groups and beer drinkers to reappraise the Carlsberg brand through its history and Danish provenance.
"Some consumers see mainstream lagers as interchangeable, and we know from extensive research that it's incredibly important for them to be aware of the heritage of the individual brands they consume," said Liam Newton, vice president of marketing, Carlsberg UK. "We want our campaign to celebrate our Danish origins."
---