The relaunch of brand Carlsberg in the UK will take more than two years, according to the brewer's CEO.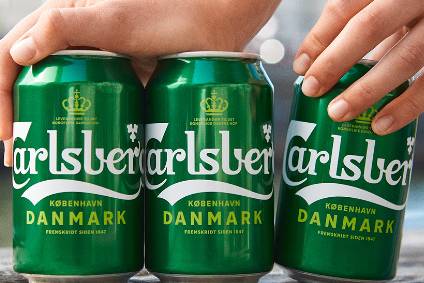 Speaking to analysts following last week's Q3 trading update, Cees 't Hart said that Carlsberg has made several steps to restore the beer in the UK, as part of a process that has "just started". The brand has had a troubled few years in the country, kicking off with a cull of several SKUs across Tesco stores three years ago.
In results for the first six months of this year, the company reported a loss of share for the brand in the country.
"We have upgraded the visual identity of the brand," 't Hart said on Friday. "We have updated the logo, we have a new bottle, we have several sustainability innovations on packaging - so we're pretty confident that we will be successful with this re-launch, not only in the UK, but across the globe."
Speaking on the UK specifically, 't Hart said the move "will take an investment of two to three years at least".
"We are declining with our brand in a declining mainstream segment," the CEO said. "Obviously, we cannot halt the decline of the mainstream segment, but we should be able to halt the decline of our market share."
The Carlsberg CEO highlighted several "betterment" measures in the UK, including the recently-launched 'Snap Pack' sustainability initiative, which sees glue dots replace plastic neck rings. "We have gotten already the first big promotional slot for the Snap Pack in Tesco, so that's a good pick-up," he said.
The company also last month test-released Carlsberg Unfiltered, a Danish-style Carlsberg pilsner in the UK, among other pilot markets.
In terms of consumer sentiment around the UK Carlsberg relaunch, 't Hart said the brewer will have a clearer indication of engagement by next June, with early tests proving positive.
He also pointed out that the UK business is "not that significant" for the group. "It is only 1.5% to 2% of group EBIT," the CEO said. "But obviously, we do want to change the course of the Carlsberg brand there."
Carlsberg's turnaround challenge in the UK - Click here to find out what just-drinks thinks
---