Carlsberg has unveiled a way to package multi-pack can formats without the use of plastic, a proposition that could reduce global plastic waste by around 1,200 tonnes per year.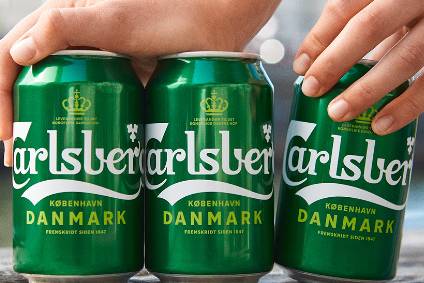 The 'Snap Pack', which was launched today, uses glue to group cans together instead of plastic neck-rings. The concept, Carlsberg said, will bring the amount of plastic used in traditional multi-packs down by "up to 76%".
At the same time, the brewer announced it will start to use 'Cradle-to-Cradle'-certified silver inks on its bottle labels in an effort to improve recyclability and adopt a new coating on refillable glass bottles to extend their lifespan.
The measures, part of the brewer's 'Together Towards Zero' sustainability programme, have been designed by Carlsberg's research unit in collaboration with external partners. All three will be introduced via the Carlsberg brand.
"We always strive to improve and today's launch clearly shows our ambition … towards a better tomorrow," said group CEO Cees 't Hart. "Carlsberg's Snap Pack will significantly reduce the amount of plastic waste, and we look forward to giving our consumers better beer experiences with less environmental impact."
To promote the Snap Pack, the brewer showed off a three-metre-high replica of Copenhagen's Little Mermaid statue, made entirely out of Snap Pack cans.
Just over a year ago, Carlsberg announced plans to eliminate all its carbon emission and halve water usage across all its facilities by 2030.
Why consumers don't yet know about your sustainability efforts - Sustainability Spotlight
---