A new seal from the trade group for US craft brewers, the Brewers Association, has been launched to let consumers know the beer they are drinking comes from an "independent" brewery.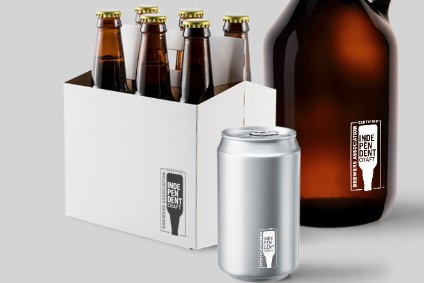 Featuring an upside-down bottle shape, the seal is designed to differentiate craft breweries from those owned by multinational companies. The Brewers Association has long fought to stem the encroachment of brewers such as Anheuser-Busch InBev and Molson Coors on what the group regards as the "independently-owned" beer industry.
"Independence is a hallmark of the craft brewing industry, and it matters to the brewers who make the beer and the beer lovers who drink it," the BA said, citing Nieslen data that shows the words "independent" and "independently-owned" strongly resonate with 81% of consumers. "Increasingly, [consumers] are looking for differentiation between what's being produced by small and independent craft brewers versus Big Beer and acquired brands."
The free seal is for any small and independent US craft brewers that have a valid TTB Brewer's Notice, meet the BA's craft brewer definition and sign a licence agreement, the BA said. It is available to both member and non-member breweries of the BA and will roll out in the coming weeks.
The BA said the seal will clear up consumer confusion over who owns a particularly brewer in the wake of a raft of acquisitions in craft by multinational breweries.
"As Big Beer acquires former craft brands, beer drinkers have become increasingly confused about which brewers remain independent," the BA said. "Beer lovers are interested in transparency when it comes to brewery ownership."
In the past, the BA has also accused big brewers such as AB InBev of attempting to stifle distribution by buying up independent distributors.
---