Brauerei C&A Veltins has reported a boost in exports for the first half of 2017, as it looks to further develop sales outside of its domestic market.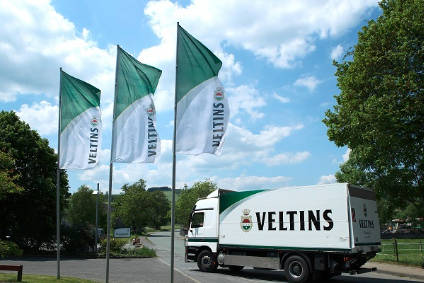 The family-owned German brewer said earlier this week that export volumes in the six months to the end of June rose by 7% on the corresponding period a year earlier. "In the first six months of the year alone, 110,000 hectolitres were distributed outside of Germany," said Veltins general manager Michael Huber.
"We believe that this business offers even more potential, because we are pursuing an ongoing strategy of market development in established countries," he added.
The firm highlighted Italy, Spain, the Netherlands, the UK and the US as priority markets.
Speaking about the UK, MD Dr Volker Kuhl said the firm "can continue to grow, in spite of Brexit".
"We don't believe our British friends want to go without German beer, as it enjoys an impeccable reputation abroad," Kuhl said. "There is still keen consumer interest in access to a wide variety of good quality beers."
Overall, Veltins' volumes came in flat for H1 2017, with a 0.7% lift to 1.489m hl. Brand Veltins was also flat at -0.1%, while the firm's Grevensteiner beer grew volumes by 22%, thanks to the trend towards specialist beers.
---