A new report from The IWSR and just-drinks has forecast a recovery for the blended Scotch whisky category after some difficult years.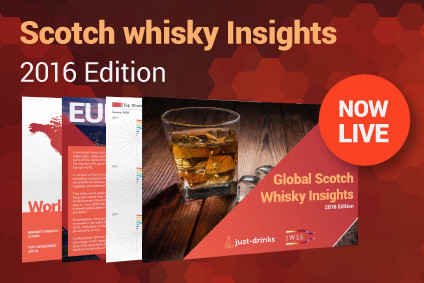 According to the 'Global Scotch whisky insights - market forecasts, product innovation and consumer trends' report, published today, the blended Scotch whisky sector showed declines in 2012, 2013 and 2014, falling by 1.3% in 2014. Despite the downward trend, the segment is set fair for better times ahead. "Despite its current travails," the report states, "blended Scotch is poised to bounce back over the next five years, thanks to positive trends in emerging markets, in particular."
Volumes will remain level or decline in 2015 and 2016, but are forecast to "recover strongly to the end of the forecast period (2020)". The blended sector will add a total of nearly 7m cases between 2015 and 2020, representing a compound annual growth rate (CAGR) of 1.6%.
While mature markets for blended whisky are expected to continue to stagnate or decline, emerging markets, notably India and Russia, will provide growth.
Russia is one of a number of markets forecast to add 1m cases or more of blended whisky sales by 2020. China and Global Travel Retail will also see volumes increase by 1m cases over the period, with the latter forecast to reach 7m cases by 2020. India will build on its recent impressive growth record, adding 3m cases by 2020, representing a CAGR of 12.2% to 2020 and overtaking the US in volume terms.
Meanwhile, the strong growth in the malt category is set to continue, according to the report. The malt sector has grown by a CAGR of 6.3% over the past four years, reaching 8.6m cases in 2014, while the blended sector grew by a CAGR of just 0.6% to 86.7m cases.
Growth in malts will continue over the coming five years, with sales set to reach 10.1m cases by 2018 and 10.8m cases in 2020, representing a CAGR from 2015 to 2020 of 3.8%.
---