Black Labels Co's Maluma collagen protein drinks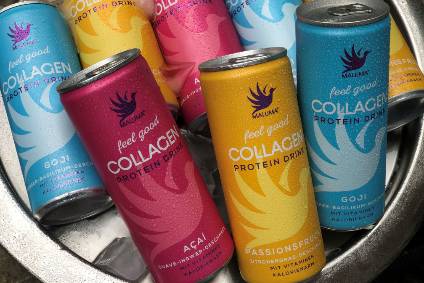 Category - Soft drinks, functional
Available - From this month
Location - Germany, off-premise, available in branches of Aldi-Sud in the south of the country
Price - Not specified
German start-up Black Labels Co has launched a three-strong line of collagen protein drinks in its home market.
Maluma comprises Goji with Strawberry & Basil, Açaí with Guava & Ginger, and Passionfruit with Lemongrass. The range is available in 25cl cans made by metal packaging group Ardagh.
"Maluma is our innovation in response to a demand for feel-good, natural drinks that ... have nutrients to support the skin, metabolism and immune system," said BLC's CEO, Rolf Fritsch.
Ardagh Group's sales director, Dirk Schwung added: "There's a growing demographic of consumers who will be excited by a feel-good, healthy drink like Maluma. They are also keen to make 'clean' lifestyle choices, meaning the can is an ideal choice for BLC's new brand due to being part of a circular economy."
What does the return of big soft drinks brands mean for health & wellness? - Click here for a just-drinks comment
---