Biggar & Leith's Stambecco Maraschino Amaro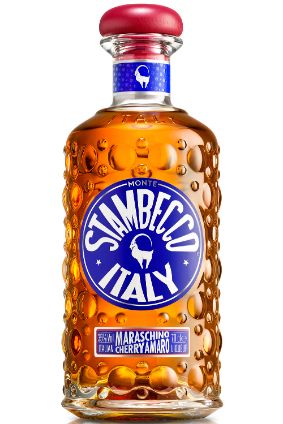 Category - Spirits, liqueur, Italy, 35% abv
Available - From this week
Location - Germany, Greece and The UK, ahead of Denmark and Switzerland in the coming weeks
Price - In the UK, SRP of GBP25 (US$32.60) per 70cl bottle
The former owner of Pernod Ricard's Malfy gin brand has released an Italian herbal liqueur into three European markets.
US-based Biggar & Leith, which sold Malfy to Pernod just over a year ago, unveiled Stambecco Maraschino Amaro late last week. The liqueur, produced at Torino Distillati in north-east Italy, is made using maraschino cherries and sweet and bitter oranges, as well as coriander seeds, marjoram, oregano, wormwood cinnamon, cloves and nutmeg.
Stambecco takes its name from the Italian for 'ibex', a wild goat that is found in the Italian alps and roams near the distillery. The packaging includes a red stopper and a picture of an ibex on the label.
Company founder Elwyn Gladstone said: "This approachable Amaro has a complexity to the spirit which makes it perfectly-suited for cocktails such as a 'Stamhattan' - a twist on the Manhattan. It can also be enjoyed neat on the rocks or as an ice-cold shot."
Earlier this year, Biggar & Leith launched a line of Italian vermouths under the Hotel Starlino brand name.
How white spirits is trying to ride the hard seltzer craze - Click here for a just-drinks comment
---