Bacardi's Major Lazer Limited Edition Rum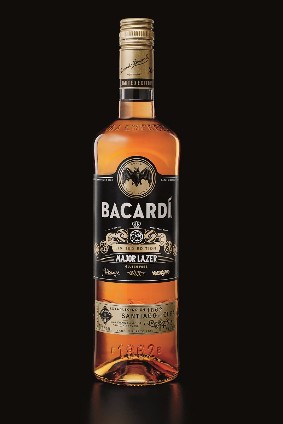 Category - Rum, 40% abv
Location - US from June, selected international markets from September
Available - As above
Price - US$19.99 per bottle
Bacardi has launched a limited edition rum in partnership with musicians Major Lazer. The move follows the announcement in January of a year-long tie up with the electronic music trio, called Sound of Rum.
The new product, Major Lazer Limited Edition Rum, was created after Major Lazer visited the Bacardi distillery in Puerto Rico. They worked with maestro de ron Manny Oliver to create their own batch of rum. Available for a limited - albeit unspecified - time, the expression comprises a blend of light and heavy dark rums that have been "tropically aged" for between three and four years.
"Over the past few months, Bacardi and Major Lazer have had the freedom to create and collaborate, not just slap a logo on something," the company said.
The firm also announced Major Lazer member Jillionaire (real name Christopher Leacock) has been appointed "minister of rum".
Earlier this month, Bacardi recalled a batch of Bombay Sapphire London Dry Gin in parts of Canada, after the alcohol strength was found to be almost double what it should be.
---