Bacardi's Aberfeldy Exceptional Cask 19-Year-Old Sherry Finish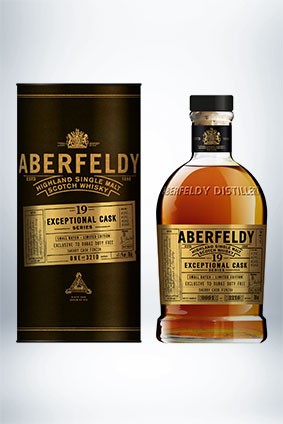 Category - Spirits, whisky, Scotch, single malt, 43% abv
Available - From this week

Location - In Dubai
Price - SRP of AED540 (US$150) per 70cl bottle
Bacardi's Global Travel Retail division has launched a limited edition, 19-year-old expression of its Aberfeldy single malt Scotch brand, exclusive to the Global Travel Retail channel at Dubai International Airport.
A total of 3,210 numbered units of the iteration, which is the latest in the company's 'Exceptional Cask' series of single malt bottlings, will be available in 13 stores around the airport. The liquid has been sourced from four casks, with the whisky from three of the four moved into Oloroso Sherry casks after 15 years. The fourth cask, which held the whisky for the full 19 years, was an ex-Sherry cask.
"Over the past year-18 months, the powerful surge by Aberfeldy in sales across Europe and Asia has demonstrated the brand's exceptional ability to innovate with new launches that engage and convince the sophisticated whisky shopper," said Sandeep Chugh, regional manager for the Middle East & Africa at Bacardi's GTR unit.
"I am confident that the launch of Aberfeldy Exceptional Cask 19 Year Old Sherry Finish at Dubai Duty-Free will further consolidate that success."
Last month, Bacardi launched a 15-year-old single malt from Aberfeldy that is available exclusively through GTR.
Why single malt Scotch must ignore its core consumer - Click here for a just-drinks comment
---