PepsiCo has lined up Australia as the next market to stock some of its soft drinks brands for use with the SodaStream home-carbonation platform.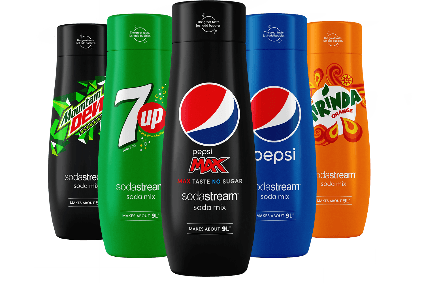 The drinks and snacks group, which spent US$3.2bn on SodaStream two years ago, said today that brands including Pepsi Max, Pepsi, 7UP, Mirinda and Mountain Dew will hit shelves in the country in syrup form this week. Available at multiple retailers Coles, Woolworths, Harvey Norman, Kmart, and Big W, the syrups, which are added to water carbonated by a SodaStream unit, have an SRP of AUD7 (US$4.90).
Each bottle of syrup makes about nine litres of soda.
The move to Australia comes almost a year after PepsiCo launched ten branded flavour mixes in Norway and Sweden, with Germany and France following earlier this year.
"Pepsi for SodaStream flavours is the result of two key players in the beverages industry coming together for the first time in Australia," said SodaStream Australia MD Mark Fenton. "Australians are craving the instant gratification that comes from living life on-demand, and Pepsi for SodaStream flavours delivers that at the touch of a button.
"Aussies can get the great taste by mixing it with sparkling water, while also feeling good about saving thousands of single-use plastic bottles."
Also today, PepsiCo announced its agreement to take over the distribution of Danone's Evian bottled water brand in Canada from the start of next year.
Why COVID-19 has restored plastic's popularity in soft drinks - Click here for a just-drinks comment
---