Artisanal Beverage Ventures' Bold Rock Hard Tea and Hard Lemonade range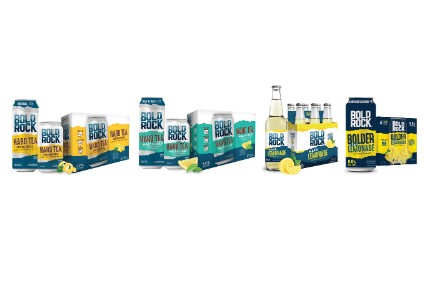 Category - Soft drinks, tea, lemonade, 5%-8% abv
Available - From this month
Location - The US
Price - Not specified
Craft cooperative Artisanal Beverage Ventures has added a range of alcoholic soft drinks to its portfolio, through hard cider brand owner Bold Rock.
Bold Rock Hard Tea and Hard Lemonade launch this month in ten states, comprising North & South Carolina, Delaware, Florida, Georgia, Maryland, Pennsylvania, Tennessee, Virginia and West Virginia. The pair will also be available in Washington DC.
The line are:
Bold Rock Hard Tea Original - lemon flavour
Bold Rock Hard Half & Half - tea with lemonade. Both have an abv of 5% and will be available from next week in 12-packs of 12oz cans with a 19.2oz single-serve can launching next month, and
Bold Rock Hard Lemonade - 5% abv
A fourth variant, Bolder Hard Lemonade, launches next month in 16oz cans and with an abv of 8%.
"Craft beverage is ever-evolving," said Bold Rock's co-founder, Brian Shanks. "Bold Rock's mission is to remain at the forefront of not just our core cider business, but to diversify and innovate within a wide spectrum of adjacent craft beverage segments."
The launch will be backed by a digital media campaign, called 'Make The Bold Choice'. The push will include digital and out-of-home ads.
Bold Rock partnered with Artisanal Beverage Ventures last year, becoming the first non-beer brand to join the craft platform.
How concerned should the beer category be about the hard seltzer boom? - Click here for a just-drinks comment
---