Anheuser-Busch InBev's Hoegaarden Cherry Blossom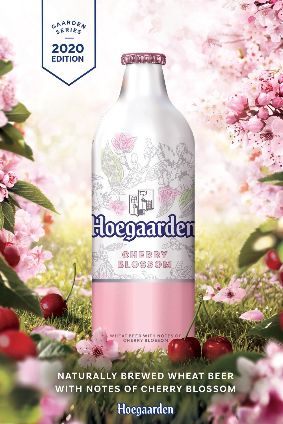 Category - Beer, wheat beer, 5.6% abv
Available - Since 26 March
Location - The US, available in the District of Columbia, Maryland and Virginia in the off-premise channel
Price - SRP of US$9.99 per four-pack of 16oz aluminium bottles
The US division of Anheuser-Busch InBev has launched a new flavour in its Hoegaarden portfolio in the country.
Hoegaarden Cherry Blossom, which is inspired by Washington DC's springtime season, will be available for a limited time. The 5.6% abv fruit-flavoured wheat beer variant launched last week in two US states and in Washington itself.
Anheuser-Busch's VP of premium & super premium, Peter Van Overstraeten, said: "Combining Hoegaarden's strong brewing heritage, connection with nature and the highest quality ingredients with a local treasure of the cherry blossoms, we are bringing nature back to the city.
"Hoegaarden Cherry Blossom is truly a wheat beer inspired by the essence of springtime in DC, and we're thrilled to share it with the local community."
Hoegaarden is available in around 70 markets worldwide. Earlier this year, Anheuser-Busch InBev launched the LQD flavoured malt beverage range as the brewer embarked on its strategy to expand outside of the beer category.
What advice for the beer category in the time of COVID-19? - Click here for a just-drinks comment
---