Anheuser-Busch InBev's Golden Road Brewing's Fruit Cart Hard Seltzer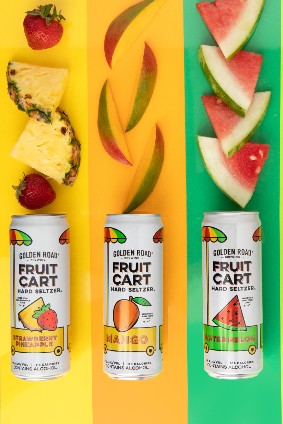 Category - Hard seltzers, 4% abv
Available - From this month
Location - US, see below for details
Price - TBC
Anheuser-Busch InBev's Los Angeles brewery Golden Road Brewing has launched a range of hard seltzers based on 'fruit cart' flavours. The Fruit Cart Hard Seltzer range includes Cucumber Lime, Mango, Strawberry Pineapple and Watermelon. The products, which are made with real fruit juice, contain about 113 calories per 12oz can.
Fruit Cart has started to roll out to California, Arizona, Nevada and Hawaii with a nation-wide launch due on 10 August.
"There are different ways of creating the seltzer base," said Victor Novak, brewmaster at Golden Road Brewing. "For us, we start off by actually brewing a light beer, then running it through a sophisticated cross flow filtration process to ensure that it's very neutral and clean tasting. We then blend in just the right amount of fruit juices and natural flavorings to create our light and refreshing seltzers that are bursting with flavour but not cloying. Getting that balance right is crucial."
A-B InBev bought Golden Road Brewing in 2015.
US hard seltzer sales trump light lager on 4 July - Drizly data
---