Anheuser-Busch InBev has opened its first fully-automated warehouse, with plans to roll out the cost-saving design to its global markets.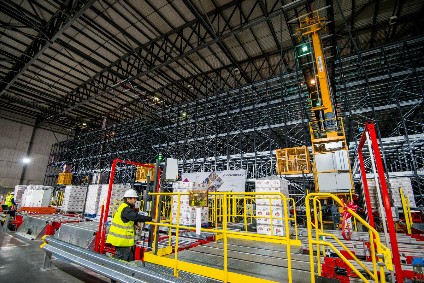 The "robo-warehouse", at A-B InBev's brewery in the UK, uses robotic cranes to fulfil orders faster and cut down on environmental emissions, the company said yesterday. It will cut an estimated 605 tonnes of CO2 from the brewery's carbon footprint by reducing transportation between warehouses.
Efficiency will also be boosted - the robotic cranes, working across six stories and nine miles of racking, can retrieve any of the stored pallets in under 60 seconds.
A spokesperson for A-B InBev told just-drinks that company plans to roll out the system to its breweries around the world.
Lloyd Manship, brewery manager for A-B InBev at the site in South Wales, said: "I'm proud that this technology is a global first for A-B InBev and look forward to seeing its implementation all over the world."
A-B InBev has committed to reducing its carbon footprint by 25% as part of its 2025 Sustainability Goals. Speaking to just-drinks earlier this year, CEO Carlos Brito said the company's sustainability targets "have always been about our everyday actions".
"In sustainability, innovation could make a big gain" - just-drinks speaks to Anheuser-Busch InBev CEO Carlos Brito
---