Ongoing weakness for the Budweiser brand, along with slowdowns for Michelob and the craft segment, will mean more headaches for Anheuser-Busch InBev in the US, an analyst has warned.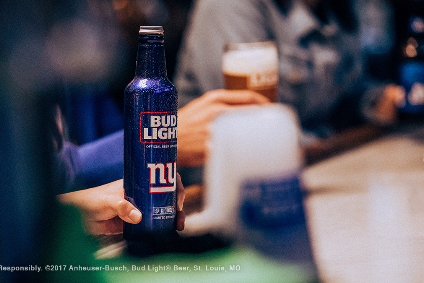 In a note to clients this week, Bernstein's Trevor Stirling said AB InBev's US beer business has been suffering amid a year-long industry downturn - domestic shipments for overall US beer fell by just under 2% for the year to November. Against that backdrop, AB InBev's core brands - Budweiser and Bud Light, which account for more than half of the group's US volumes - are losing both market share and volumes, according to a Bernstein analysis of Nielsen data to 2 December.
Compounding these problems is the fact that previously-fast growth for Michelob Ultra has started to decelerate. The low-carb brand posted an 18% volumes increase in the three months to 2 December, compared to more than 20% growth for equivalent periods throughout 2016 and for most of last year.
AB InBev's craft unit, which includes brands such as Goose Island and Blue Point Brewery, has also seen slower growth as the US craft beer industry slows overall. Bernstein said Goose Island has slowed "quite substantially" in the past 12 months and is now in decline. Increases for smaller craft brands such as Elysian have been more than offset by Budweiser and Bud Light losses, Bernstein continued.
The craft decline for AB InBev supports comments last week from SIG analyst Pablo Zuanic, who cited IRI data that showed the company's craft breweries lagging the US market. Zuanic said this could prompt the group to pick up its buy option on Craft Brew Alliance, in which the brewer already owns a minority stake.
Bernstein said that the gap between AB InBev's overall volumes growth and the rest of the US market expanded throughout last year as weakness in its core brands outpaced growth for Michelob and also Stella Artois. The analyst said that with Budweiser and Bud Light collectively declining by as much as 7%, "it will be tough for AB InBev to achieve share stability, let alone volume stability".
Bernstein also had bad news for AB InBev's marketing department. The analyst said that the new Bud Light activation, which has captured a wide audience with its "dilly, dilly" catchphrase, may be "a hit on social media but [is] so far not impacting volume trends".
---