All Market's Vita Coco Boosted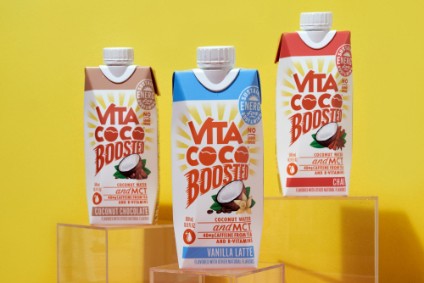 Category - Soft drinks, coconut water, caffeinated
Available - From this month
Location - The US, available through Amazon and in Walmart and Wholefoods stores
Price - SRP of US$34.99 per12x50cl multipack, US$3.29 for one
All Market has launched a caffeinated version of its Vita Coco coconut water in the US.
Vita Coco Boosted contains 40mg of caffeine extracted from tea in each 50cl carton. Three flavours are available - Vanilla Latte, Coconut Chocolate and Chai.
All Market is positioning the water as an MCT (medium chain triglyceride) drink. MCTs are a type of saturated fat commonly found in coconut oil. According to the company, the blend of MCTs, B-vitamins and caffeine offers a "balanced dose of energising benefits, without the jitters or crash".
"Our combination of replenishing coconut water with energising coconut MCT oil offers consumers a versatile product that can be enjoyed as a sidekick to your coffee, an addition to your morning smoothie or any time you need a pick-me-up," said Vita Coco founder & CEO Michael Kirban.
Last month, the founder of Zico coconut water bought the brand back off The Coca-Cola Co. Speaking to just-drinks about the deal, Mark Rampolla said coconut water still has a long runway for growth around the world.
Soft drinks looks outside for expert health & wellness help - Click here for a just-drinks comment
---