AG Barr's FunkinPRO Hibiscus Syrup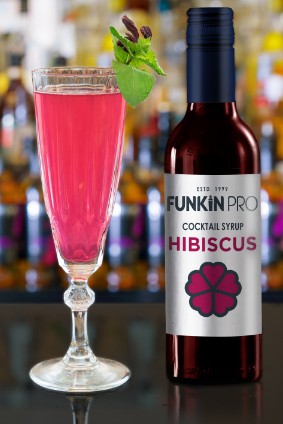 Category - Cocktail mixer, purée syrup
Available - From this month
Location - UK on-premise
Price - GBP4 (US$5)
AG Barr has launched a hibiscus flavour for its range of FunkinPRO cocktail syrup mixtures.
The company said FunkinPRO Hibiscus Syrup brings "an exotic twist" to its single batch PRO range and adds a "shimmering crimson" colour to cocktails. The flavour is available in cases of 6x36cl bottles and has a two-year shelf life.
"Hibiscus has been identified as one of the top on-trend ingredients for 2019 so this, coupled with the trend for more simplified, pared-back cocktails means that bartenders are looking for flavours and ingredients that will make their serves appeal to the eye and to the palate and our FunkinPRO Hibiscus Syrup really delivers on all aspects," said Ben Anderson, marketing director for Funkin Cocktails.
Earlier this week, UK adult soft drink producer Nix and Kix also added a hibiscus drink to its portfolio that plays into trends for the so-called 'Millennial pink' colour. Nix & Kix Watermelon & Hibiscus is available in Tesco and other UK supermarkets.
Why pink is the biggest thing in spirits in 2019 - Comment
---