AG Barr's Funkin Pro Coconut Purée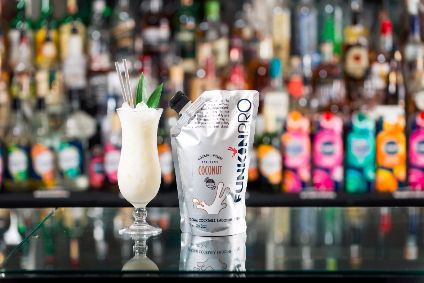 Category - Purées and juices
Available - From this month
Location - UK on-premise
Price - GBP47.48 (US$59) per case
AG Barr's cocktail unit Funkin has released a coconut purée in the UK on-premise, as it looks to capitalise on the popularity of the Pina Colada.
According to the company, the purée is made from 100% natural coconuts from Indonesia. The product does not contain artificial flavourings, colourings, sweeteners or preservatives.
Citing CGA data, Funkin said the Pina Colada is the UK's second most popular cocktail.
"Funkin Pro Coconut Purée allows bartenders to be creative and experiment with this versatile ingredient to develop signature cocktails or inventive twists on a classic whilst ensuring quality and flavour," said Funkin managing director Andrew King.
Funkin Pro Coconut Purée is available in cases of 5x1kg pouches with a 12-month shelf life. They can also be frozen for later use.
AG Barr acquired UK-based Funkin in 2015, in a deal worth GBP21m (then-US$31.5m).
---