AG Barr's Funkin Nitro Canned Cocktail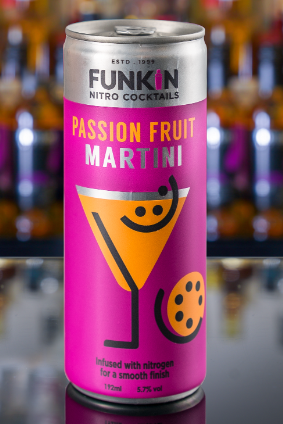 Category - Spirits-based RTD range, 5% abv
Available - From May
Location - The UK, available to the on-premise channel
Price - Not specified
AG Barr has lined up the roll-out to the UK on-premise of a range of nitrogen-infused pre-mixed cocktails. The line-up comprises four variants:
Passion Fruit Martini - passion fruit, vanilla & vodka
Espresso Martini - cold brew coffee, vanilla & vodka
Amaretto Sour - juices blended with Amaretto liqueur
Pink Gin Fizz - fruit flavours & juice blended with London dry gin
Available in 12-packs of 20cl cans, AG Barr's Funkin Nitro Canned Cocktail has been designed to speed up cocktail serves in the on-premise.
"Our product development team has worked tirelessly to ensure that Funkin nitro canned cocktails deliver the best overall drinking experience compared to anything else on the market," said Funkin marketing director Ben Anderson. "Funkin Nitro Canned Cocktails are perfectly suited to outlets wishing to serve cocktails but don't have the necessary tools or trained staff. Whether a pub, restaurant, venue or festival, we are making high quality, consistent cocktails accessible to every bartender, everywhere."
Funkin, which was acquired by AG Barr in early-2015 for GBP21m (then US$31.5m), is best known for its cocktail mixers and syrups lines.
How to ride the Generation Z wave in the on-premise - Consumer Trends
---