Accolade Wines is to offer a money-back guarantee on Hardys as part of a GBP5m (US$6.5m) global update of the Australian brand.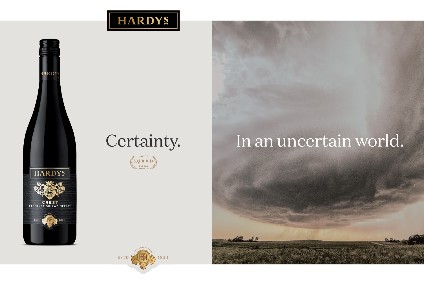 The company revealed details yesterday behind its pledge to refund consumers who are not happy with any Hardys purchase made in the UK between October and December. The initiative will debut in the country before rolling out to Australia.
The money-back-guarantee fits with a new global marketing drive for Hardys that centres on the concept of "certainty in an uncertain world". Alongside the campaign, Accolade will roll out new Hardys packaging that for the first time aligns the brand across all of its markets.
Speaking to just-drinks yesterday, Accolade Europe MD Ade McKeon said the money-back offer will "give consumers the confidence" to buy Hardys when faced with so many options in the supermarket wine aisle. "It's a bold statement that fits well with the brand," McKeon said.
He added that retailers have welcomed the initiative, which will be covered by Accolade and is factored into the global investment, of which GBP2m will be spent in the UK in the first six months. The guarantee will feature on Hardys packaging and directs consumers to a website through which they can claim a voucher that can be redeemed for the price of the bottle.
According to GlobalData, Hardys is the UK's leading wine brand by volume, with a 4.1% share of the market in 2018. In Neilsen figures cited by Accolade in September, Hardys sales in the 52 weeks to 13 August climbed by 4% in the country.
The Hardys overhaul is the biggest Accolade brand investment since the company was taken over by The Carlyle Group for AUD1bn (then-US$768m) in 2018. Since the acquisition, Accolade has divested some of its assets, including Clare Valley's Knappstein Winery.
The company is also looking to cash in on demand in China for Australian wine through a Hardys ramp-up in the county. Yesterday, Accolade global marketing director Sandy Mayo told just-drinks the company opened a Shanghai office ten months ago and is now scouting for distribution partnerships. Mayo said Accolade is making a "big investment" in China and Asia, where Hardys can appeal to mainstream wine drinkers who are not served by more premium Australian wine brands.
Mayo was previously global brand director for Treasury Wine Estates' Penfold's, which is one of the leading premium Australian wine brands in China.
Heritage and heft won't win hard seltzer's summer showdown - Click here for a just-drinks comment
---