Accolade Wines has joined the alcoholic sparkling water race, adding another category to its Echo Falls wine brand's portfolio.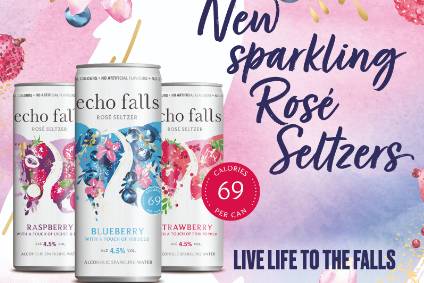 Echo Falls Rosé Seltzer, unveiled today, comprises three flavour variants. The three - Blueberry & Hibiscus, Strawberry & Pink Pepper and Raspberry, Lychee & Rose - will be available in the UK from this month, all in 25cl cans and with an abv of 4.5%.
The brand extension follows on the heels of Echo Falls Summer Berries Vodka, launched in late-2017, and last year's Rosé Wine & Gin Fusion expression.
"Blurring alcohol categories are becoming more popular and the trend for hard seltzers is here to stay," said Accolade's innovation commercialisation manager, Abigail Whithair. "Combined with an increased demand for no-/low-alcohol products, we're confident that our light Rosé Seltzers will prove popular with UK shoppers.
"This range aligns with our new 'your friend in wine' brand positioning, as we look to bring younger shoppers (35 and under), who we may have lost to other categories such as gin, back to wine and navigate them through the portfolio."
The line has an SRP of GBP2 (US$2.60) per can.
Last week, the CEO of energy drinks group Monster Beverage Corp confirmed the company is looking at a "number of alternatives and opportunities" to develop non-alcoholic and alcoholic seltzers. The news came a week after The Coca-Cola Co unveiled Topo Chico Hard Seltzer, which is set to hit Latin America later this year.
The Coca-Cola Co's hard seltzer launch is a statement of intent – Click here for a just-drinks comment
---