As 2017 draws to a close, just-drinks looks back at the stories that have made the headlines across the global drinks industry. Here, news & insights editor Andy Morton picks out the highs and lows for the soft drinks category.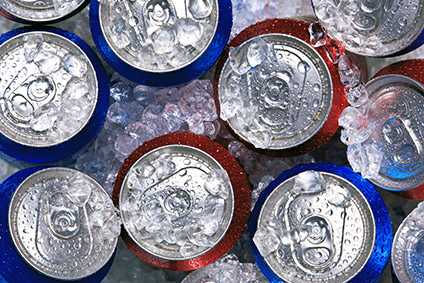 It may not have been the most exciting year for soft drinks, but future historians of the category could view 2017 as something of a watershed for the industry's biggest company. This was the year that Muhtar Kent stepped aside as The Coca-Cola Co CEO to be replaced by 52-year-old Englishman James Quincey. With the appointment came the promise of a shift in focus for the soft drinks giant, whose products and brands have helped define the category for the past century. Kent may have helped ignite Coca-Cola's zeal for beverages outside of its traditional soda sphere, but when Quincey became CEO in May, the company's desire to push into new categories became much more apparent.
Indeed, in the first few months of his captaincy, Quincey appeared to talk of little else but Coca-Cola's new focus as a "total" beverage company, repeating the mantra in interviews around the globe until even the company's bottlers in India were parroting the line.
In truth, of course, the change to a more inclusive Coca-Cola has been happening for a while. Quincey's words have merely lent credence to the company's move away from a reliance on its core soda brands such as Coca-Cola, Fanta and Spirit and towards newer beverage categories where growth can be found.
In 2017, that policy - along with substantial job cuts at Coca-Cola's Atlanta HQ - looked to pay off as financial results continued to take a turn for the better. The turnaround may have started last year, but in 2017 Coca-Cola proved that it still knows how to deliver returns, even amid upheaval for the company in the shape of ongoing bottler refranchising efforts around the globe. There was good news on that front this year, as the company's biggest refranchising project - the restructuring of its US bottler system - finally ended as the last of the Coca-Cola territories were handed over to bottling partners.
As the company gave away its bottling network in the US, it also shed something else - sugar. Last year, governments and lawmakers around the world flexed their regulatory muscle to enact a number of sugar taxes, and this year Coca-Cola - and the rest of the soda industry - reacted by reducing their reliance on the white stuff.
Globally, Coca-Cola expanded the launch of its Coke Zero replacement, Coca-Cola Zero Sugar (or Coca-Cola No Sugar in some markets), but the leap away from sugar was most notable in the UK, where a new soda tax is due to come into force in April next year. Already, soft drinks makers in the country including AG Barr, SHS Drinks and Purity Soft Drinks have taken many of their brands under the upcoming policy's taxable threshold in what has been a massive shake-up for the category. Western Europe bottle Coca-Cola European Partners said in August that of its many brands only classic Coke and Monster Energy will remain within reach of the UK Treasury once reformulation work is complete. With sugar taxes becoming ever more popular with authorities, it is a sign of how a near sugar-free soda market of the future may look.
Commercial failure
It was a quiet year for PepsiCo, albeit one shaken by a major PR gaffe that captured headlines around the world. It remains unclear exactly who it was that thought an advert in which Kardashian clan member Kendall Jenner quells a potential clash between protestors and police with a can of Pepsi was just what the brand needed in these culturally complex times. If it was exposure they were chasing, then the plan worked. The ad made headlines around the world. However, coverage was not complimentary, with many people attacking PepsiCo for what they saw as a muddle-headed attempt to connect with Millennials. The backlash was so big that even long-running US TV show Saturday Night Live put the boot in with an advert ridiculing the decision-making process behind the ad. Chastened, and with Jenner reportedly in tears over the growing furore, PepsiCo pulled the ad less than 24 hours after its launch.
Elsewhere in 2017, European producer Refresco Gerber made the second-biggest acquisition splash of the 12 months with the purchase of Cott Corp's traditional beverage manufacturing business, known as Cott Beverages, for US$1.25bn. The biggest followed two months later when Refresco itself was bought out an investment group for US$1.9bn.
PepsiCo continued its moves into functional beverages, bedding in last year's acquisition KeVita and being linked with coconut water brand Vita Coco. The growth of functional beverages was one of the trends of the year, as soft drinks makers continued to seek new ways to connect with consumer demand for more healthy drinks.
In Japan, there was the debut of Coca-Cola Plus, a fibre-enriched, fat-blocking, calorie-free soft drink, that commentators saw as an example of companies taking out the bad stuff from drinks and adding more of the good stuff. This has led to a mad dash for the "next big thing" as companies play around with new ideas such as ashwagandha, a shrub traditional used in South East Asian medicine but now finding its way into energy drinks as a "jitter-free" alternative ingredient.
Optimism around these non-CSD categories reached the point where even major alcohol producers took note. In July, Anheuser-Busch InBev announced the acquisition of US energy drinks brand Hiball and sparkling water & juice brand Alta Palla. A few months later, the brewer revealed its was helping to develop a range of fibre- and protein-rich soft drinks made from the leftovers of the beer brewing process. Meanwhile, major brewers including Heineken and Molson Coors increasingly encroached on the soft drinks opportunity with expanded launches for their low- and non-alcoholic beers and ciders.
The crossover with alcohol continued with further growth for Fever-Tree. The UK based firm was perhaps the most successful soft drinks company of the year despite being more closely aligned with spirits through its range of mixers and tonics. Fever-Tree's share price has nearly doubled since 2015, a surge that hasn't gone unnoticed in the soft drinks world. Companies including Britvic, Coca-Cola and Red Bull polished up their adult beverage and mixer ranges in a bid to share Fever-Tree's good fortune.
2017 was also the year that the soft drinks industry's long-running challenge of packaging waste finally made inroads into mainstream consumer consciousness. Media reports of plastic bottles clogging the world's waterways - including an alarming image of a lobster with a Pepsi "tattoo" - fuelled debate over what to do with ocean litter.
Meanwhile, equally shocking statistics in the first half of the year from eco-group Greenpeace - which in a publicity stunt erected a sculpture made of reclaimed ocean plastic in front of Coca-Cola's UK HQ - were perhaps a catalyst for a flurry of activity from the big soft drinks makers on sustainability. In November, Coca-Cola warmed up for an unveiling of a new global sustainability programme next year with the launch in Western Europe of a plan to increase recycling rates. Earlier, PepsiCo promoted a similar drive to boost US recycling rates, as the bigger players in the industry attempted to burnish their eco-credentials. At September's beverage packaging exhibition Drinktec, recycling and waste were the hot topics on the showroom floor as packaging firms promoted the latest in sustainability tech.
The road ahead for 2018
Plastic ocean waste is an issue that will continue to reverberate next year. But what else can we look forward to in 2018? In marketing, the industry will likely dive deeper into virtual sponsorship after Coca-Cola this year signed up a character from the latest FIFA football video game. PepsiCo will extend its portfolio of so-called "next-generation" beverages after launching the 7UP-style Lemon Lemon and juice extension Izze Fusions in March this year.
But the biggest launch in 2018 will be Coca-Cola's latest attempt at combining stevia with its namesake brand. The company plans to release a Coke extension made with 100% stevia sometime next year. The product is still at the test stage, but when it arrives it will be the first all-stevia-sweetened beverage under a major brand. It is a sign of how stevia-extract has developed over the past few years from a promising alternative to aspartame held back by a slightly bitter taste to one that can support a major launch from one of the world's most recognised brands. Coca-Cola, however, will be aware of its track record with Coca-Cola stevia extensions - in 2017, Coke Life disappeared from a number of markets due to weak demand. The company will have higher hopes for Coke Stevia Mark II.
And after that? Perhaps Coca-Cola will join the growing band of soft drinks entreprenuers exploring new opportunities in legalised marijuana. As more US states decriminalise recreational use, the idea of a Cannabis Coke doesn't seem as far fetched as it did last year. Let's see if Quincey knows the meaning of the word "total".
---