As the end of the year approaches, just-drinks is starting its review of the events that shaped the drinks industry in 2014. First up, Ben Cooper considers what the last 12 months have meant for the bottled water category.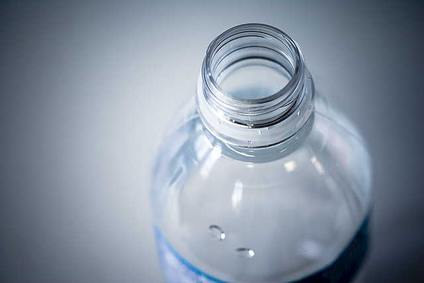 A relatively quiet year in the bottled water market was nevertheless notable for some interesting brand activity. In October, Groupe Danone unveiled its first Evian-branded Travel Retail outlet at Madrid Barajas in partnership with Spanish Travel Retail firm Arèas.
As retail rents and concession fees in airports tend to reflect the value of Rolexes, Baccarat crystal and Louis XIII Cognac, a store bearing the name of a bottled water brand may seem a slightly surprising departure. However, while the category might seem to lack the luxury dimension demanded by Travel Retail, it boasts powerful global brands - in Evian and Perrier particularly - that can arguably sit side-by-side with any of the globally-famous names that litter the store fronts and wall space of major international airports.
It is a measure of the power of the Evian brand that it has attached itself successfully to so many other products over the years and, of course, Evian merchandise features prominently in the new store. The Evian face spray saw the brand transfer fairly effortlessly to personal care products, so there are Evian moisturisers and other such products marketed under the brand. The Madrid store will also carry Evian-branded merchandise such as baby clothes, wallets, shirts, caps and bags.
The Espace Evian store is also an interesting venture for the brand's owner, Danone, which will use it to sell other products in its portfolio, such as Danone yoghurts, along with gazpacho soup, vegan bagels and fruit smoothies. Oh yes, and you can also buy water!
The brand potency of the sector was also underlined in August, when new research was published suggesting that bottled water brands should step up their advertising on social media and mobile 'phone platforms to target 'Generation X' consumers in the US. The study, 'Bottled Water in the US', published by market analysis firm Packaged Facts, claimed that consumers who drink "relatively large quantities" of bottled water have an "above-average degree of receptivity" to advertising through social media and mobile 'phones. In addition, the study found that 35- to 44-year-olds in the US are the biggest consumers of bottled water.
The research also revealed that Hispanics and African-Americans are key consumer groups for bottled water brands. It found that consumers of "large quantities" of still water are 31% more likely than average to be Hispanic and 36% more likely to be African-American. The comparatively healthy commercial prospects for the category were set out in a report in July, published by Transparency Market Research. The report forecasts that the bottled water market will grow at a compound annual growth rate (CAGR) of 8.7% over the next six years, to reach US$279.65bn by 2020. Last year, the market was valued at $157.27bn.
Flavoured variants and demand in Asia are seen as the primary engines of growth in the category. Flavoured water sales will increase at a CAGR of 12.3% over the six years. Asia already accounts for the highest proportion of bottled water sales globally, with a 33% share, and will grow at a CAGR of 10.5% over the next six years, with China, India, Thailand, Indonesia and Japan expected to be the key growth markets. Europe currently accounts for 28.8% of global sales.
Nestle Waters also pointed to healthy growth prospects in developing markets when it published its nine-month sales figures in October. On an organic basis, the company said water sales in the nine months to the end of September rose by 5.1%. In addition, it reported double-digit growth from emerging markets, with "strong" performances from local brands, especially in Turkey, China, Brazil and Egypt. In North America, Nestle said its spring water brands, Ozarka and Deer Park, performed "well".
Meanwhile, the UK has also been showing strong growth, according to data published in May by British Bottled Water Producers. Citing data provided by market analysts Zenith International, the trade body said the market grew by 6% in 2013 from GBP1.6bn to GBP1.7bn (US$2.86bn) with volumes rising to 1.9bn litres. Sales of still water are continuing to outstrip sparkling water in the country, with the still segment now accounting for 85% of the market. Natural mineral water accounts for 60% of the UK market; spring water accounts for 32%; bottled drinking waters - so-called 'table' waters - account for 6%, while purified waters have a 2% share.
The growth prospects in water are attracting investment. In November, Cott Corp announced a diversification from its core carbonated soft drinks (CSD) and juices business into water, agreeing a deal to acquire DSS Group, parent company of DS Services of America, for US$1.25bn. Cott said it had entered an agreement to buy DSS, a direct-to-consumer provider of bottled water, office coffee and water filtration services, from private equity group Crestview Partners. The deal, expected to close at the end of January, will bring Cott's annual net sales to around $3bn. DSS was acquired by Crestview Partners for an undisclosed sum in September 2013 and itself made a number of acquisitions during the course of 2014.
With campaigners focusing on sweetened soft drinks in the debate over rising obesity rates and other diet-related health issues, water brands remain keen to promote their health credentials. In October, bottled water marketer True Drinks launched a new ad campaign, setting out very clearly what it sees as its point of difference over traditional soft drinks. The 12 video spots, released on YouTube, feature children guessing how much sugar they consume. They then pull a rope with the annual average sugar consumption for US minors falling on them in the form of lollipops, marshmallows and other sweets. The ad features bottles of AquaBall, which True Drinks claims is "zero-calorie", "sugar-free" and "vitamin-enhanced".
The potential in the flavoured water sector was further underlined in the same month, when Ocean Spray Cranberries announced a move into the bottled water market with the launch of Ocean Spray Pact. The new product contains PACs, or proanthocyanidins, which are natural elements found in cranberries. Ocean Spray claims PACs "help cleanse and purify your body better than water alone". Pact is sweetened with agave nectar, stevia, monkfruit extract and fruit flavours, and contains ten calories per 16oz bottle. It comes in four flavours - cranberry pomegranate, cranberry raspberry, cranberry blood orange and cranberry mango-passion fruit.
However, flavoured water brands themselves have been criticised on health grounds. Coca-Cola announced in August that it would settle a class action law suit in the US that had claimed the Vitaminwater name was misleading and that the brand contains negligible amounts of fruit juice and is mostly made up of water and sugar. It also accused some marketing slogans of being misleading, including one which states "Vitamins + water = all you need". Under the settlement, the company will state the amount of calories on the front labels of the flavoured water brand as well as write in bold type "see nutrition facts for more detail".
On a brighter note for Coca-Cola, in June it announced the launch of Glacéau Smartwater in the UK, the first European market for the bottled water brand, with a major ad campaign, reportedly valued at about GBP3m. The launch came ten years after Coca-Cola was forced to withdraw its Dasani brand in the UK as it emerged the drink was purified tap water, not natural mineral water. The revelation resulted in the brand being pilloried in the UK press. It is not making the same mistake again. Glacéau Smartwater will be made from "British spring water", Coca-Cola said.
In July, Nestle Waters seized the opportunity of the UK hosting three stages of the Tour de France by sealing a sponsorship deal for its Buxton Natural Mineral Water brand. The company gave away up to 35,000 bottles of Buxton to crowds lining the UK stages, which began in Leeds on 5 July. The Tour de France has strong associations with bottled water brands: Perrier first sponsored the event as far back as 1933.
It is not known, however, what the cyclists made of the 'Naturally Pumped Up' tagline for Buxton's ad campaign.
---