In the final part of just-drinks' exclusive interview with Anheuser-Busch InBev CEO Carlos Brito, we get a glimpse of the group's employee culture, we head over to China and we consider placing some bets.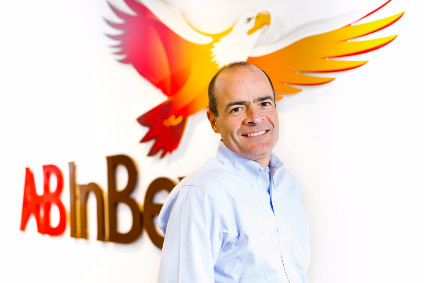 Ask a drinks executive what they'd most like to know about Anheuser-Busch InBev, and the answer will often refer to the company's approach to its employees. When the group bought SABMiller in 2016, what fascinated many observers was how SAB's employees - rather, those that were kept on - would cope with the A-B InBev ethos.
"When we grow inorganically," Brito says, "the first thing we do between signing and closing is to talk about our culture to our future colleagues. With SAB, in the first four months after signing, I travelled like a maniac trying to meet as many people as possible, talking about our culture and answering questions. You want to show people that that's how we operate; if you love it, it's going to be great. If you don't think it's for you, we're not going to change it."
How A-B InBev incentivises its staff was best-described by the FT (in an excellent set of articles from 2015) as "tough". Hearing Brito talk about bonuses, this description seems fair.
"When we talk about our big dream," Brito explains, "that means your targets are going to be stretched. Your compensations are connected to your targets. So, everybody wants to be part of a company that's trying to be best in class. But, you'll never get there: The reference is always moving. On the search into getting there, you can only do it if you're stretching all the time. Otherwise, you're just an average company. We have targets that are stretched, because we're trying to build a best-in-class company.
"If people say that their bonuses could be at risk, we say, yes. We're all in the same boat. There's a meritocracy - the best people will progress faster. It's not a seniority-based system. We look for the person best-suited to an opportunity, not the person who's been here the longest. If you'd rather be in a company where your ten years are valued, that's not us."
Brito believes the group's approach to its employee pool is straightforward and easy to grasp. "It's like staying fit," he says. "We all know what we need to do; eat reasonably well and exercise to a minimum. But, how many of us do that? The principals are very simple to enunciate. But, to live them on a daily basis? There are lots of distractions. It's all very easy to say, but they're very hard to live on a daily basis, because they have consequences. Some people love stretched targets - they're being put to the test and learning what they are capable of."
And on pushing employees to improve? "If you set the high jump bar at a height you know you can make," he says, "you'll jump that high, not higher. People conserve energy, that's common sense. If you never raise it, you'll never know if you can jump higher. You're always trying to beat your opponent, to beat the record. Our company line is the same. Always stretching, seeing what we can do.
"You only live once. It's sad not to have a place where you can exercise your potential"
"You only live once," he adds, "It's sad not to have a place where you can exercise your potential. We try to create that environment in our company. By taking ourselves out of comfort zone, we're able to learn what's inside of us and put that to use. Some people love to be challenged like this, some people don't. And, that's fine."
If it's not A-B InBev's employee engagement that fascinates you, then it's probably the group's M&A designs, yes?
"We don't think consolidation every day," Brito counters. "We think organic business every day. In our company, there are only three or four people that think about these kinds of things. Even when we do a deal, ten or 20 people maximum are involved in the process from signing to closing. Ninety-nine per cent of our people never see that light.
"I don't need a deal to get our people excited. We have everything we need right now. We have gaps everywhere, because our culture is one of gaps. We believe we're not the best at anything - we're very humble. There are companies out there that are doing things better than we do - FedEx, Walmart and Amazon do logistics better than we do, for example. So, we like to visit them, then come back and work out where the gap is between how they do it and how we do it. What we have to do as managers in the company is to open gaps and then close gaps. We believe there is always somebody out there with a better idea than we have in every dimension of the business, so we're always trying to search for that someone that we can learn from. When we close the gap, we have to think about the next one."
Later in our conversation, we turn to look at A-B InBev's approach to the Chinese beer market, where the premium segment has turned into a successful stomping ground for the group. Brito curiously describes the move as "a bet".
Seriously? The world's largest brewer in the world's largest beer market places bets? "We placed it many years ago, when it wasn't obvious that that was the way to go," says Brito . "When we looked at what we could offer in terms of being different in that market - our brands, our people - we also looked at where the margins were. After all, if you're only playing China in the core and value segments, then the market is not very attractive."
Helping to shorten the odds for A-B InBev is its global presence, according to Brito. "We could see that other markets were premiumising," he says, "and worked out which brands we could bring to market (in China). We knew other channels would develop, like western bars. So, we put some bets on that.
"So, yes, at first, it was a bet. We bet ahead of the curve big time with all the risks associated with that, knowing it might not work. But, we had reasons to believe, being a global company, that it was more of a likelihood to work than not. Only five years ago, it began to work, until then, it was a bet."
What other bets has the group laid down, then? "Oh, we have many! China remains a bet. We already dominate the premium category, now we're building the country's super-premium category. This is double the price and margin of premium. It's a developing channel. Some of the Chinese consumption habits are becoming westernised - white tablecloth restaurants, for example. In some other habits, they're leading the rest of the world, like e-commerce. We're learning with them. So, this back and forth is a good thing about being a global company.
"In the US, we're investing a lot in things like craft, aluminium bottles, Michelob Ultra. In Brazil, premium is still to be done - today's it's just 8% or 9% of the industry. That's a bet."
Then, there's Africa where, among the other markets that A-B InBev has taken on from SAB, Nigeria is the one to get Brito going. "Here's the biggest economy in Africa, 200+m people, working on beer's classic pyramid model."
Yet, Nigeria has been giving several drinks companies the runaround recently, with Heineken noting earlier this year that "value brands continued to outperform the rest of the portfolio" in the country.
"We have so many good beer markets that are going through the same flux," counters Brito. "When you're in places for the long-term, those things don't scare us. When you look at the trends and you're global and you've seen those trends play elsewhere ten years ago, you know where they're going. Those trends are not stopped by bad government, by crisis, by a currency issue, by the price of oil going down.
"People are living longer, they're better educated, the middle class is growing, governments are more accountable, information is more available and more is being added to the economy because of these things. This market is going to go up, this society is going to develop, they're going to look for brands, they're going to look for experiences and occasions, they're going to develop from the very basic to the more sophisticated. We're going to have a business there.
"The fact that a market has issues is no different to those markets with fewer issues"
"The fact that a market has issues is no different to those markets with fewer issues."
We rewind to Argentina, 20 years ago: "When the crisis of 2000-01 broke," Brito notes, "everybody was leaving the country. We came in and bought the business. We're in this business for the long-term. A crisis isn't the end of the world, consumers will continue to go this way, beer will continue to grow. So, we went in when everyone was leaving."
This sounds like disaster capitalism, Brito!
"No, no, no, no, no! We're brewers. We've been here for 600 years and we're going to be here for another 600 years."
---