Sue Clark has spent the last two-and-a-half years heading up SABMiller's European business. It's been a tough introduction to the world of P&L, after ten years in a corporate affairs role. Here, just-drinks deputy editor James Wilmore speaks to Clark on how she manages the region, her aim to attract more women to beer and her intriguing hobby.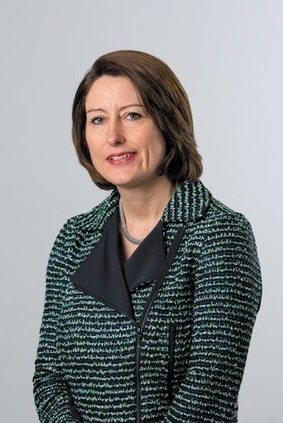 Being a woman in a male-dominated environment, such as the beer industry, takes a steely reserve; an ability not to be ruffled. Sue Clark has learnt that from her favourite pastime away from the SABMiller coalface. "I keep bees," Clark explains to me, as we sit in the offices of the group's London headquarters. Having enquired of her hobbies, this wasn't quite the answer I expected. "I like it, as you can stay close to nature, and I've always wanted to keep bees ever since I was a little girl."
Now 50, Clark, has been able to realise that lifelong ambition, because she "has a big garden". Her rise in horticultural status came about after she took up the role of SABMiller's Europe MD in June 2012. Prior to that, Clark spent ten years as the group's corporate affairs director.
How was the switch?
"There's a lot of similarities and a lot of differences," she says. "Managing a big business is all about people and strategy, and they were two areas I was involved with in my previous role anyway. But, being responsible for the P&L side of the businsss was a difference, and obviously you learn a lot along the way."
Predictably, it's been a fast learning curve. The travails of global beer producers in Europe have been well-documented and SABMiller has not been immune to these pressures. In its last set of full-year figures, the company saw a 10% drop in profits in Europe, while lager volumes in the region slid by 4%. "We had a difficult last financial year," admits Clark. "Some of our big markets were challenged. The top four profit-contributing countries in the region - Poland, Czech, Russia and Turkey - all suffered."
In Czech, while beer consumption levels remain high, the company has been hit by the shift from on-trade sales to the off-trade. "As people invest in their homes, with widescreen TVs, it becomes more comfortable for people to drink beer at home than necessarily going out," explains Clark.
Meanwhile, in Poland the business suffered from being the guinea pig for a new "enterprise resource system" for dealing with invoices, according to Clark.
But, it has been in Russia and Turkey – where SABMiller has a strategic alliance with Anadolu Efes – where the problems have been most acute. In Russia, Clark admits it was a "particularly bad year" in 2013 as "a lot of eye went off the ball, we lost a lot of key account outlets and we had challenges around reshaping the portfolio".
Since securing the Efes deal, though, Clark says the company has a "much better grip on the business". However, she admits to being concerned by the affect of the political situation the country faces and the impact that is having on consumer spending. "The Rouble has collapsed," she notes. The situation does not seem to be improving, judging by SABMiller's preliminary half-year results.
Another issue looming on the horizon is the Russian government's bid to stop brewers selling beer in PET bottles over 1.5 litres. The industry agreed to a voluntary initiative to stop producing brands in PET bigger than 2.5 litres this year. By the end of next year, however, Clark believes this could be extended to smaller size bottles. "We think we'll migrate some consumers into glass and some into multi-packs," she says, "but inevitably we'll lose some consumers as well."
Turkey has also been tough, with the impact of a ban on alcohol advertising continuing to be felt and a clampdown on the hours during which alcohol can be sold. Another issue is the high rate of excise tax on beer in the country. "We don't expect them (duty levels) to come down anytime soon," says Clark.
And yet, there are some bright spots for SABMiller in Europe. Despite a generally-declining beer market, the UK is still proving fertile ground for the firm's Italian lager brand, Peroni. SABMiller's lager volumes in the UK were up 5% in the last full-year, with Clark describing Peroni as "our star".
The company has been very careful in trying to maintain the brand's premium positioning, which appears to have paid off. "We've deliberately postitioned it as different from other brands, with the whole link with (the) style (industry)," says Clark. "We are still being very judicious in the way we roll it out."
The rise of the craft segment does not appear to have affected SABMiller's performance and Clark is quick to quell the notion that the explosion in small UK breweries should be seen as a threat. "I think craft beer is helping the category, because it's bringing excitement back and people are talking about beer and the range of styles. We are in the world beer segment, so I don't think we are competing directly. A lot of craft beers are cask-conditioned, so we are not fighting for tap handle space on the bar."
However, the spectre of pub closures still looms large in the UK. SABMiller's rival, Heineken, took the situation into its own hands three years ago by acquiring 918 pubs in the country, while C&C Group is another international brewer looking to get a foot in the door of pub ownership.
This is not the route that SABMiller appears keen to take. "It's a different skill running a pub, it's not our core skill, so I wouldn't see that happening," says Clark. With the changing face of the UK on-trade sector, where more premium outlets are thriving, while some traditional outlets struggle, it's perhaps understandable SABMiller is content with the landscape.
On a wider scale, the company has spoken much of late about the holy grail among beer producers: How to attract more women into the category. SABMiller believes that highlighing the spread of beer styles is a way to attact a greater numbers of females. "Sometimes it's forgotten that women's palates are more sophisticated than men's," says Clark. "They have more tastebuds. A lot of our more complex beers: stouts, the dark beers are attractive to women, but also sweeter beers and radlers.
"It would be slightly patronising to say that all women like sweet (beer) so it is kind of recognised across the piece that we need to encourage them (women) to try different things."
Aside from the liquid, SABMiller is also trying to tempt more females to the category through packaging and glassware innovations. One example is the new 75cl Pernoi bottle being rolled out in the UK, along with chalice-style glasses, as is being showcased at the London 'House of Peroni' pop-up bar.
But, much of beer's problem over the years has been its blatanly male-foccused - occasionally sexist, even - advertising. Although we're unlikely to see an end to this type of marketing, SABMiller is at least taking steps to give its campaigns more of a cross-gender feel. Clark tells me that women have now been brought in to sit on the company's pre-screening panels for ads, before they get released. "Where we do have brands that are targeted at men, we are making sure the ads are not turning off women in the process, which is quite important," she explains.
"We believe that mixed gender brands are the best way forward." Whether the company can crack this holy grail remains to be seen, but Clark insists that Peroni is a good example of a "mixed gender" brand.
The issue of attracting more women to work in the beer industry itself, meanwhile, still remains. Understandly, Clark appears reticent to be defined by her gender, but suggests things are changing, slowly, not least at SABMiller. "Our chief brewer is a woman, you see a lot of women who are brewers." But, she admits: "We do need more great women in the business."
Clearly, SABMiller believes that Clark fits that description.
---