Formed just under a year ago, Beam Suntory is a "global whisk(e)y powerhouse," in the words of Albert Baladi, the unit's Europe, Middle East & Africa (EMEA) head. But, how have things progressed since Suntory's $16bn takeover of Beam Inc? What brands and regions are shining bright and where are the emerging opportunities? Here, just-drinks catches up with Baladi for his take on the present and the future for Beam Suntory.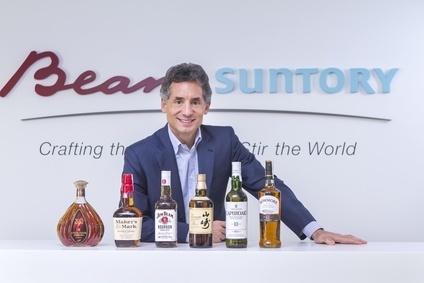 The last time just-drinks interviewed Albert Baladi, Beam Inc had just celebrated its first year as a stand-alone spirits firm. The Lebanon-born executive seemed happy that the group, which split away from Fortune Brands in 2011, had proved a few observers wrong by passing the first anniversary landmark without being acquired by a larger firm.
But, it wasn't too long before Baladi was getting his business cards changed again. Last year's US$16bn swoop by Suntory Holdings for the Jim Beam producer was the biggest deal the drinks industry has seen in recent times. Rather than carving up the business however, Suntory has kept the US firm intact, and its senior management in place.
Baladi seems content with how things have transpired. "One of the the great things about the integration has been to realise, culturally, that we are very similar to Suntory," he says, as we look over London's skyline from City Social bar. "Both companies have an entrepreneurship (about them) and draw on family businesses. And, if you look at the brand portfolio, we are now truly a global whisk(e)y powerhouse."
Baladi admits the merger process has taken up "lots of man hours across the company". He also flags the obvious language barriers in communicating with Suntory's top people in Japan, as well as the time difference. Suntory also expects its units to report back on a monthly basis, whereas before Beam Inc had quarterly updates. "But, by and large, the benefits and similarities trump those small adjustments," he says.
For Baladi, reporting sales figures on a more regular basis won't have been too daunting a prospect, judging by the performances of the units he oversees. We meet before the reporting of Suntory's full-year group results, when the company posted mid-single digit rises in its 2014 sales across Europe, Middle East and Africa, excluding Ukraine. "We are very, very proud of the performance," Baladi tells me. "It was pleasing, considering what our competitors are reporting at the moment." In Europe, the performance of the group's single malts portfolio has been brisk, with sales up "double digits", adds Baladi.
Beam Suntory has an enviable portfolio of whiskies in its cabinet, including Jim Beam, Maker's Mark, Laphroaig, Bowmore, The Yamazaki and The Hakushu. However, does this not increase the risk of cannibalisation in some markets? Baladi seems unfazed. "The Scotch (whisky) market is huge and there is space for development in Scotch, our brands are growing," he says. "We don't see it as a competition, as an either/or. Japanese whiskey outside of Japan is still very, very small, it's still a niche sector. And, even with Bourbon, all the work that we and Brown-Forman have done over the last 15 years, it's still only 10% of total (global) whisk(e)y."
But, he duly notes: "Japanese whiskey is growing at 20%-plus and Bourbon around 11% - and we have a strong presence in both those segments."
Drilling into Europe, Baladi says Russia – despite its well-documented problems – remains the firm's "number one priority" market. "We are very committed to Russia," he explains. "We have invested in the teams, the brands - and we feel very comfortable, despite all the turmoil at the moment with the currency. We have got a very strong operational team, around 130 in Moscow. They have lived through the 1998 crisis, the 2008 crisis. Clearly, you will have a decline in consumption at some point, but then it always comes back roaring after a couple of years."
The Jim Beam brand started 2014 as Russia's number six best-selling whisk(e)y, it's now number four and about to become three, Baladi boasts. "You switch off your investments in Russia at your own peril," he adds.
Ukraine, meanwhile, has inevitably been a drag on the group's performance. "Clearly, the country has been affected because of the conflict and consumption is going down," says Baladi. "We have taken a measured approach and supported our distributor, because we didn't want to lose market share." But, he admits: "It's been a big hole in our P&L in 2014, compared to what we did in 2013."
Elsewhere, Germany remains the group's "powerhouse market" in Europe, where the group's sales were up by mid-single digits last year. Core to this has been the performance of the Jim Beam portfolio, helped by variants such as Red Stag and Devil's Cut. However, Baladi admits: "There's a lot of competition, there are a lot of newcomers, so we try to market in an inventive way, with things like our Jim Beam 'Make History' campaign."
Away from whisk(e)y, Beam Suntory has some other intriguing brands in its hands that have so far yet to materialise in Europe. Pinnacle vodka, which Beam Inc acquired for US$605m along with Calico Jack rum brands in 2012, is one. After initial strong sales under the company's wing, the brand has stalled somewhat in the US, affected by saturation in the flavoured vodka market (Pinnacle has more than 30 variants).
Can we expect to see Pinnacle in Europe? Not anytime soon, it appears. "We have concluded to put Pinnacle on the back-burner as far as launching in Europe is concerned," says Baladi. "I'm very much of the opinion that, if you're going do something you have to do it well, you've got to stick with it for five years, you have to be able to see the opportunity and drive it very hard. Therefore, against the rest of our priorities, this wasn't one of the things we wanted to put at the top."
Was there concern that it's a saturated market for vodka in Europe? "It is a crowded market," he concedes. "You have to think, where will I get the best return for my investments? Compared to the big players, we're a smaller company with fewer staff and people and therefore we have to be very, very focussed."
So, how about Skinnygirl? The brand, created by US author and TV presenter Bethenny Frankel, is still getting much attention in the US, even though its sales have also slid a bit. But, like Pinnacle, the brand won't be coming to European shores anytime soon. "There is a space and a need for lower-calorie drinks, but we don't see that as being the top priority for us to put our resources behind," he says.
Part two of this interview can be found here.
---