Brendan Buckley is the global marketing director for Pernod Ricard's Irish Distillers unit, owner of the Jameson whiskey brand. As Irish whiskey continues to grow in popularity outside of its core US market, just-drinks spoke to Buckley about raising the awareness of Irish Distillers' other brands. He also talked about the recent success of rival whiskey Proper No. 12, fronted by mixed martial arts star Conor McGregor, as well as moves to ramp up Jameson's e-commerce footprint.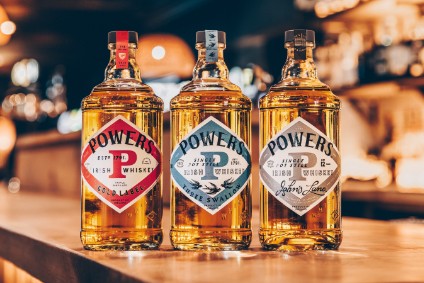 just-drinks: Prior to the boom in new Irish whiskey distillers, was the category in danger of becoming stale?
Brendan Buckley, Irish Distillers global marketing director: Having more players in the game has brought diversity, something that we welcome. Of course, we haven't been sitting on our hands, and we've been doing a lot on our own, in terms of innovation beyond Jameson.
j-d: You have just overhauled the Powers Irish whiskey brand. You obviously see a big opportunity there.
BB: I would term Powers the sleeping giant of Irish whiskey. It's a phenomenal brand. The sad fact is that we have to make choices in where we invest and what we invest behind, and clearly Jameson was the number one priority globally for the past several years. It was only a matter of time before we got around to bringing Powers to the world. It's been a labour of love for me in these last few years, and it's a pretty bold move on our behalf. I was one of those people who felt that the look of the old Powers was sacrosanct. Unfortunately, the more we researched it, the more it became clear that despite my own personal love for the old look, it was seen by many as being outdated. You have to bring new drinkers in because otherwise, the brand will die on the vine. So, fingers crossed, it pays off.
j-d: Some industry analysts have identified a slowdown for Jameson in the US. Are they right?
BB: Slowdown is not the phrase we would use. At some point in time, the growth was going to moderate because you will have the scale effect. But, once you get to the size we are - we're getting close to 4m cases in the US - getting double-digit growth has become more difficult. You will see those growth rates begin to moderate down and that's absolutely as we had planned. We can look at the absolute numbers and they are still adding hundreds of thousand-cases every single year in terms of incremental growth. I think ultimately, you will see a moderation of the growth rate and that is because of the consequence of the scale we're reaching.
j-d: Some analysts blamed Conor McGregor's Proper No. 12 Irish whiskey as one of the reasons for the slowdown. Is the brand on your radar?
BB: We're aware of it. Obviously, Proper 12 has arrived on the scene with a bang. We don't see us losing share per se - we think that Conor McGregor has done a good job of bringing new drinkers into the category. I think it arrived with a bang, but the most recent Nielsen numbers show that those numbers have tapered off. I imagine that the performance of the brand is connected to [McGregor's] profile. It hasn't caused us much concern because it is an entirely different drinker.
j-d: Can Jameson take advantage of these new drinkers?
BB: I'm not entirely certain how you can take advantage. [Proper No. 12] is bringing more fame to Irish whiskey than more conventional methods. We welcome it and the more people drinking Irish whiskey the better.
j-d: Irish Distillers has spoken about strong growth for Jameson Black Barrel, reaching about 100,000 cases last fiscal year in the US. Is the expression a new focus?
BB: It's our number two priority after Jameson Original within the portfolio. The brand is now beginning to find its groove, not just in the US but around the world [global sales were up 24% in fiscal-2019]. In a lot of our emerging markets, it seems to have hit a rich vein of form, like Nigeria and South Africa. Black Barrel is growing 20%-plus in those markets and, in some other markets, it's gone from a standing start to 10-15,000 cases.
As Jameson begins to reach scale in some markets, Black Barrel gives us an additional growth relay.
j-d: What areas are you looking at in terms of innovation?
BB: There's no doubt e-commerce is an area we are looking towards. Also, Caskmates [a project in which the Jameson brand teams up with breweries for barrel-aged expressions]. We've got a number of partnerships now in the US and other countries. We've got one coming up in France later this year.
j-d: What are you working on with e-commerce?
BB: There's a huge appetite out there for branded merchandise, we see a big opportunity in that. And, developing e-commerce-only whiskeys is one angle we're looking at - why you would buy online rather than go to your local off-licence.
j-d: China is at the forefront of e-commerce - what plans do you have there?
BB: It's an active project right now, looking at route-to-consumer in China. We're still in the early days of our developments in China - the whiskey world, the premium segment is small, but it's developing. Pernod Ricard is very strong there with Cognac and Scotch, but we haven't quite made inroads with Irish whiskey. It is actually one of our top priorities from that kind of regional development perspective.
j-d: What potential is there in China for Irish whiskey?
BB: It's hard to even put numbers to this. Just given the size of the market there, even if you get a fraction of a percentage, it could be big.
What's coming up in dark spirits in 2020? - Predictions for the Year Ahead
---