This week, Pernod Ricard unveiled Kahlua Nitro Cold Brew, a Kahlua-branded RTD that joins an Espresso Martini released almost two years ago. The two RTDs are the first in a new wave of canned pre-mix cocktails from the coffee-based brand that are replacing the now discontinued 20cl bottles of Kahlua Mudslide and White Russian. A lot has happened, however, since the Espresso Martini launch. Not only has the coronavirus pandemic upended consumer occasions for on-the-go spirits-based drinks, but the success of the hard seltzer category has lit a fire under canned alcoholic beverages. Is now the perfect time for Kahlua to double-down on its new RTD strategy? just-drinks spoke to Kahlua senior brand manager Rima Sawaya about where Pernod is taking the brand in the COVID era, the hard seltzer effect on spirits and the odds of seeing a non-alcoholic Kahlua RTD.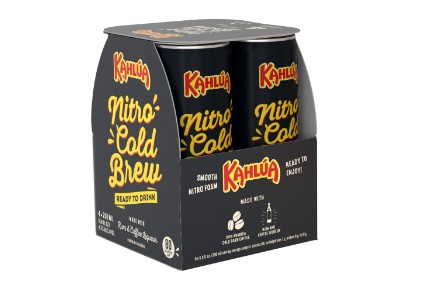 just-drinks: There's a lot of interest in coffee across beverages, so this may be an easy question to answer. Why have you launched these new Kahlua RTDs?
Rima Sawaya, senior brand manager for Kahlua: A lot of people don't know that Kahlua is a coffee liqueur - they think it's kahlua-flavoured. But, we're made with real rum and coffee, so it's natural that our cocktails feature coffee in some shape or form. And, given the surge of interest in coffee cocktails, we are hoping to introduce them in a very convenient format, like the Espresso Martini can and Nitro Cold Brew.
j-d: You could almost say that coffee is Kahlua's secret weapon, given the interest in the coffee category at the moment. But, you say some consumers don't know that coffee is in Kahlua. Is part of the RTD project to increase that awareness?
RS: It's something that we're looking at across all our strategy innovation. The Nitro Cold Brew was definitely a component of that. We're definitely going to be taking a much more coffee-leading approach in the coming months to make sure consumers are aware that Kahlua is made with coffee and not just that it goes well with coffee.
j-d: Premium spirits has seen a huge wave of RTDs hit the market recently. Why?
RS: Hard seltzer has reinvented RTDs in the past eight years or so. They've really helped set the kind of behaviour around where and how people are consuming alcohol. There's different occasions and behaviours now. Because these cans and these RTD formats lend themselves so well to outdoor occasions like picnics, festivals, beaches, you can take it with you on-the-go. You're seeing that also translate into the RTD spirits category. Because consumers have embraced this behaviour, they're able to realise they can take delicious cocktails with them anywhere they go.
j-d: How has the coronavirus affected the RTD spirits category?
RS: If you're looking at the past year, Nielsen puts the growth of the RTD spirit category at 128%, so this is definitely a category that isn't slowing down anytime soon. COVID has accelerated many different categories and RTDs is one of them. They are so convenient, they're perfect to bring for a responsible socially-distanced gathering where people don't have to worry about bringing glasses with them and cleaning them. In the past, you could argue RTD was more of a format that you'd see in the off-premise. But, we've been hearing a lot of on-premise sites leveraging them by offering them as part of their delivery, their takeout or their kerb-side drinking options because they're so convenient. Then, if you think of the vessel, it's usually a can or bottle of some sort. This is top-of-mind right now, because it's something consumers can wipe down easily.
j-d: Do you have any kind of feedback on on how consumers view cans in light of the coronavirus and hygiene requirements?
RS: Everything has been more anecdotal at this point, because it's so new. If you're like me, you wipe down your groceries when you bring them home, so I think it could follow similar patterns there. This is going to be something we'll closely watch. And, as we learn more about how people are responding to COVID, this is definitely going to be an interesting area.
j-d: How has the Espresso Martini performed?
RS: It's done okay. It's one of those things where this is a very nascent category. What you'll find in-store, at least in the US, is that customers merchandise very differently from store to store, from state to state. Sometimes you'll see it next to the regular bottles, then you'll see it in the ready-to-drink section. Sometimes you'll see it in the fridge. I think this is still new to consumers. The whole category is very new to consumers.
j-d: Where would you want it to be in-store?
RS: When we launched the Espresso Martini, the category was so different. It's got so much bigger in the past year-and-a-half. We're going to continue seeing changes in how customers are merchandising this section. There's definitely a huge opportunity in stores to carve out a specific section for the RTD category.
j-d: What's next for Kahlua?
RS: You have to react to what consumers want. We're keeping our ear to the ground on trends and ways that we can satisfy our consumers. Given our background in coffee, you'll probably see some more coffee-based cocktails down the line from us.
j-d: Would you consider playing in the non-alcoholic canned cocktail market with Kahlua? Take out the alcohol and just have the coffee and flavourings?
RS: There are a lot of brands out there doing low-alc and alc-free. Our brands are low-alc - in the 4.5% to 5-6% range, so we're already playing in this space. I can't comment on what's going to happen, but for now, I think we're working towards the low alc.
j-d: Has there been a reticence to take big brands into the non-alc category?
RS: It depends. You're seeing a lot of interest in this area in general. But, you have to think about the heritage of the brand, what it stands for and what consumers are expecting, and whether that can be replicated with non-alc. It's a really massive undertaking if a brand is going to go down that path,
j-d: Do you think it will happen in the future?
RS: Anything is possible.
---