Marketing Effectiveness for the beverage industry: The "Holy Grail" of Marketing
Beverage companies do not always enjoy the luxury of having big, relevant data sets that tell them precisely what marketing activity drives sales and what doesn't. Even in markets that have the data, companies struggle to find new ways way to generate optimal strategies to improve marketing effectiveness – until today.
Given the increased availability of data, the rise of digital media, and the heightened focus on marketing ROI, CEOs and CMOs across the globe are asking marketers to bring them the "Holy Grail" of marketing: a miraculous method that provides eternal youth for their brands and satisfaction to shareholders in the form of increased returns on marketing investment. The typical questions we get are: Are we spending enough on Digital? Or are we spending too much? Does TV still play a role and, if so, what is that role today? How can we better exploit experiential marketing? What message sells best? How important is creativity and distinctiveness? Where can we cut investments without hurting the bottom line? How can we increase our market share without increasing our investments?
EFF-E and Pointlogic (a Nielsen company) have designed the first ever Marketing Effectiveness program suited for the beverage industry, at a reasonable cost.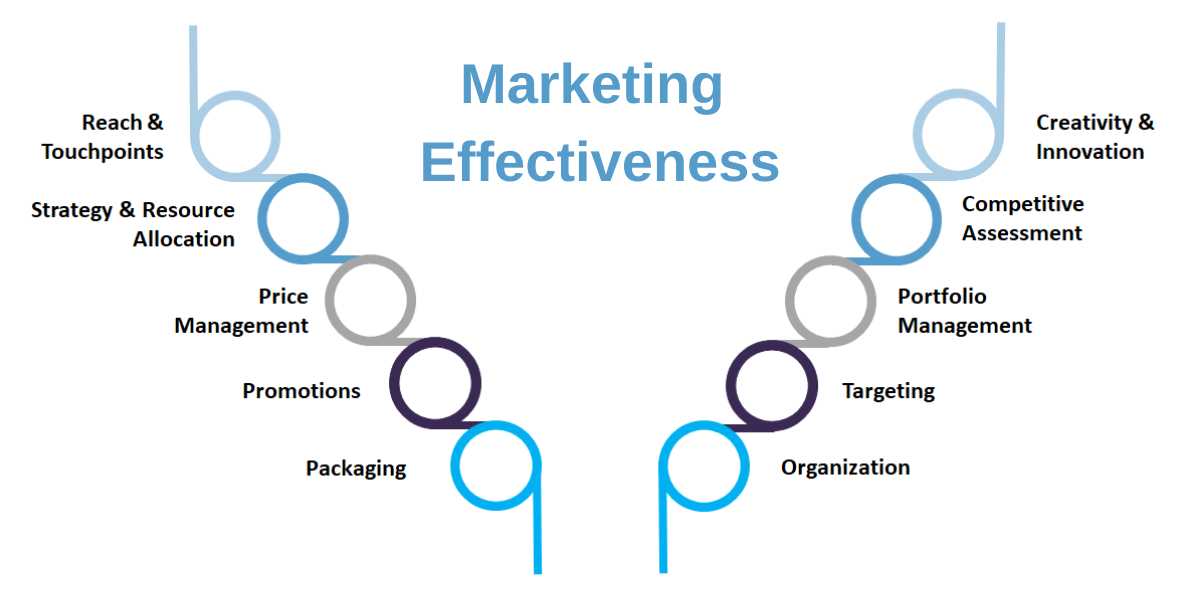 The problem with measuring marketing effectiveness is rooted in the very nature of marketing itself —¬¬ i.e., dealing with consumers who are irrational (although, as Dan Ariely might argue, they are predictably irrational) (1). It is difficult to assess performance and consumer choices within a context that is seemingly ever changing. As a result, creating a general theory of marketing effectiveness, as many marketers have attempted to do, has its limitations.
EFF-E and Pointlogic are focused on closing the gap between measuring what consumers think and feel and understanding how to influence that, by taking consumer research from its passive silo and plugging it directly into communication planning.
In the financial sector, machine learning is already being used to qualify loan applicants on the basis of risk, with a decision to grant the loan being automated. Unfortunately, we are still far from achieving this type of accurately predictive analysis within the marketing field in the beverage industry. As it stands, not all companies can afford yet the luxury of having access to Big Data analytics related to their consumers. If you are not GAFA or in financial services, telecom or retail, or if you do not depend on ecommerce for a big chunk of your sales (like the fashion industry for example), you might find that your data is either incomplete or does not always make sense.
On the other hand, a brand might stretch themselves to sponsor and dominate an experiential event (like a music festival), but how do they weigh up high engagement among 70,000 attendees versus low impact presence among 10x that number through radio, Facebook or off-trade trade marketing?
When crucial marketing levers are difficult to measure and key sales outcomes are similarly difficult, it is tempting for some mathematical techniques to "look the other way" and just simplify the marketing and sales to the chunks that are easier to measure e.g. big TV campaigns and retail sales, or take into consideration only your own marketing expenditures and not the competition's.
We came to the conclusion that we needed to take on this complexity and incorporate some measure of consumer perception into our model to complement the existing hard data.
For companies where applying machine learning and/or econometrics to a large segment of exhaustive data is not an option, EFF-E and POINTLOGIC ( a Nielsen company) propose a more holistic and adaptive approach. By combining consumer research with a strategic expert system, algorithms and modelling, companies can take into account context to build a marketing effectiveness system. We found that comparative databases and benchmarking are as important to achieving a successful return on investment as pure mathematics. Building case studies in particular can help marketing teams navigate the market more knowledgably, as they often demonstrate how the market has responded to strategies in the past depending on ever changing context.
Building the insights is one thing, but you also need an intuitive, user-friendly decision support system to unlock the value. Ideally, combining consumer research and strategic planning with real touchpoint cost data, algorithms and response curves to deliver a robust system that accurately guides decision-making. Or, as Jerry Bullmore put it : "We need to be intuitive, instinctive, scared and lucky AND we need to be rigorous, disciplined, logical and deductive"(2).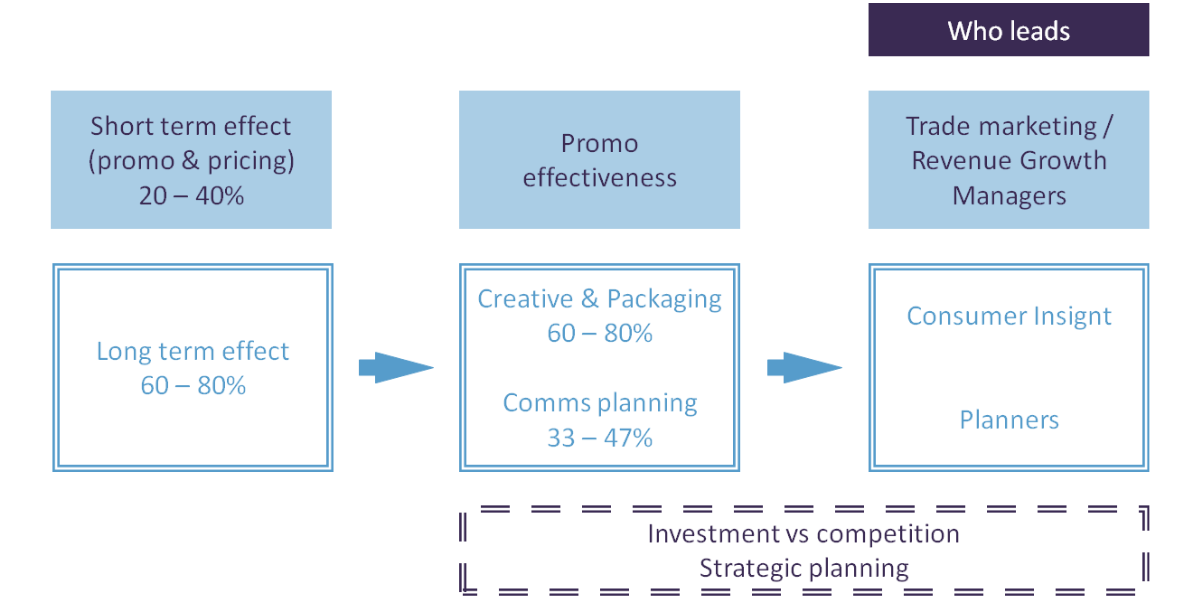 The table above summarizes our view on a Marketing Effectiveness System. It combines:
- Short term effects, mainly promotions and price management.
For promotions, the objective is to improve ROI by analysing depth and width of promotions, optimising last three feet or last click solutions (in the case of ecommerce/eretail) to come up with a set of golden rules that can be applied going forward.
Price management is looking to optimise either sales, market share or profit, depending on company objective.
- Long term effects are divided into two subcategories:
Creativity and packaging - creativity is potentially the most important part of the mix, depending on the category (level of consumer involvement, degree of maturity) and competitive context or potential for disruption. It can be measured by live testing, qual, online quant or neuroscience.
Reach and targeting - it is unlikely that even the most creative campaign in the world will turn a wrong strategy into a commercial success. That is why a solid decision support system must be put in place, together with a solid strategy (positioning, differentiation, objectives, consistency...) , proper training, benchmarking and case studies.
Marketing remains the most important ingredient in the mix that determines company success and value creation. Many companies have given up on finding the Holy Grail of marketing effectiveness, and more still are searching in vain by attempting to apply complicated mathematical formulas to a dataset that simply doesn't reflect the company's reality. I have come to the conclusion that building a Marketing Effectiveness ecosystem , with a dedicated decision support system that is easy to understand and use, is adapted to beverage companies and industry/category specificities and that can be shared within the organisation between the marketing, sales, purchasing, and finance departments, and is supported by relevant training, benchmarking and case studies is the most important step in tackling effectiveness. This marketing system must be transparent and take into consideration as many factors as possible at a reasonable cost (ideally less than 2% of total A&P investment). Furthermore, the system must incorporate both long and short-term objectives, as well as account for context (competitive pressure, economic conditions, consumer trends, market disruptions, etc.)
Of course, all of this is easier said than done. For some companies with sufficient personnel, budget, and time, these decision-making systems can be developed and implemented internally. For others, external consulting services from companies that have the experience, strategies and analytics already in place is the more cost-effective way to go.
We invite you to discover EFF-E /POINTLOGIC solution for alcoholic beverage industry. Book a free call today HERE, check out our special offer HERE or visit our website www.eff-e.com
(1) Dan Ariely - Predictably Irrational. The hidden forces that shape our decisions, Harper, 2009
(2) Master Class in Brand Planning. The timeless works of Stephen King, John Wiley and Sons, 2007
Complete the form below for further information from EFF-E: