Category commentator Stephen Beaumont returns with his monthly fix of all things beer. Here Stephen considers the opportunity - and challenge - facing brewers who are thinking of entering the spirits arena.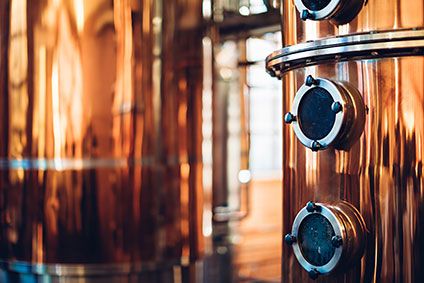 It was during the dawning years of the new Millennium that word began filtering out of Québec about a new development at Unibroue, then - as now - a widely-respected brewing company and one of the few in Canada with international renown. Whispers were that a distillery had been added to the brewery in Chambly, with plans to launch a whisky brand in a few years.
At the time, this was a dramatic move. But soon after, Ontario-based Sleeman Breweries acquired the Québécois firm, and then Japan's Sapporo bought Sleeman, and nothing was heard of the distillery again. Which was a shame, because what was then cutting edge stuff has today become almost the norm.
I note this in the midst of a craft distilling boom in North America and, to a slightly lesser degree, in Europe, some of which has been fuelled by brewers adding distilling to their operations. What is not being asked, however - or not asked often enough - is whether this is a good thing.
For brewers hurting from the effects of the coronavirus pandemic, the addition of spirits and/or RTDs to their line-ups must to some degree appear as a lifeline. Distilleries don't take up too much space and, in Canada and the US at least, licensing has been mostly simplified to the point that it amounts to little more than the payment of a fee and completion of some paperwork. Clear those two highly-surmountable obstacles and - voila! - you have a new revenue stream.
Or at least, so it must seem. In actuality, however, the degree to which spirits will truly benefit the bottom line might not be as much as you'd expect.
To begin with, the spirits markets of today are quite different compared to back when Unibroue was rumoured to be getting started. Then, most distilleries were run by large companies such as Diageo and Pernod Ricard, and so brewers determined to get into the spirits game could play the 'support small and local' card as they had for years on the brewing side. Pay no mind that some of the world's most admired and distinctive spirits were produced by those massive multinationals and their subsidiaries; emphasising independence and locality had fared well since before the turn of the Century and brewers had no reason to think it would fail them now.
In the 2020s, though, there's a lot more competition than there used to be, with around 200 independent distilleries in Canada and at least ten times that many south of the border in the US, plus all those diverse national and international brands. In almost any big city in North America, a distilling brewer that brings its products online today using the 'drink local' tagline will find itself facing a great deal of other 'local' options.
Added to this saturation of the market is the popularity of specific categories among craft distillers, such as gin and vodka. While most brewer-distillers express an interest in producing whisky, ageing requirements - both legal and quality-related - make that a longer-term goal, resulting in most defaulting to gin or vodka as their launch spirit.
Here, distillers face a conundrum. On the one hand, vodka and gin are certainly among the most popular of spirits among consumers, with the latter enjoying a current moment of glory. On the other hand, though, they're equally abundant in terms of SKUs, with many distillers producing multiple brands within each category. Spirits-based RTDs featuring these same spirits are little better, since they compete for shelf space with not only others in the category, but beers, ciders and hard seltzers, as well.
Of course, there's nothing preventing a start-up brewer-distiller from launching with, say, a rum or an amaro. However, the downside to such a strategy is that such spirits are: a) much further removed from a brewer's comfort zone than grain-based vodka and gin, and b) far less popular with spirits consumers.
The almost-inevitable result of all of this is too many brands chasing the same consumer dollars and, unless the brewer-distiller has been conceived with ultra-realistic goals, sales that will fail to live up to the full 'new revenue stream' promise.
The savvy brewer-distiller, then, must temper their expectations to extreme levels and plan for the future rather than the present. One such example is Phillips Brewing & Malting of Victoria, British Columbia. Owner Matt Phillips once told me that he views his Fermentorium distillery as a side-project rather than a serious revenue generator, even to the point that he was once told by Customs & Excise officials that he needed to make greater use of his distilling licence or risk having it taken away.
"The luxury of having the distillery as part of the brewery is that we don't have to rush into anything," Phillips says. That's why, after more than five years in barrels, Phillips has whisky in his warehouse that he still has no immediate plans to release.
It's this sort of patience that not every brewer-distiller has the luxury of exercising, but that many should consider making at least part of their future plans.
---