This month, spirits columnist Richard Woodard takes a closer look at why the world's largest spirits firms are investing in relatively small brands.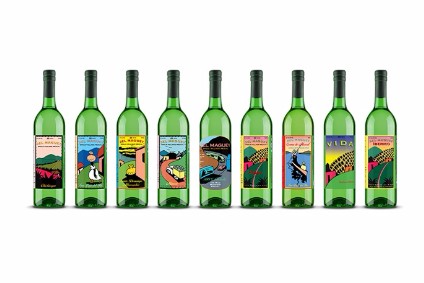 I started writing about the booze industry at a particularly fascinating time. The Seagram drinks empire was up for grabs, including some of the crown jewels of the business – Chivas Regal, Martell, Captain Morgan and The Glenlivet.
At that point, there was little doubt about the chief attractions of the GBP5.5bn deal signed by Diageo and Pernod Ricard in late 2000 – the marquee brand names that were among the category leaders in their respective fields.
Spin forward five years and the same could be said about Pernod's capture of Allied Domecq: Ballantine's, Beefeater, Malibu and Mumm were the standouts, while some second-tier brands were offloaded to Beam (we'll get back to this later).
Post-global financial crisis, post-craft spirits boom, the corporate landscape and the philosophy that underpins it has changed somewhat. In a crowded marketplace, being the best-selling brand is still a coveted position, but it also means that you're there to be shot at.
Look at Tequila. One of the world's most dynamic and fast-growing spirits categories, but not a straightforward category by any means. The US and Mexico accounted for nearly 83% of global volumes in 2016, and that share is forecast to rise to 84.5% by 2021 (when the US' slice will hit more than 57%). Look out for the imminent Global Tequila & Mezcal Insights report from Just-drinks and the IWSR for more details on this.
Tequila has a clear volume leader – Cuervo, which outsells its nearest rival by a ratio of more than two to one. But Cuervo's recent growth rates lag well behind the category, and it was overtaken in 2016 as the world's most lucrative Tequila brand by Patrón.
Tequila's fastest-growing names are mainly those following Patrón's example and surfing the category's premium wave: Cuervo stablemates 1800 and Gran Centenario; Diageo's Don Julio.
Diageo's strategy is the intriguing aspect of all this. While the company would dearly have loved to take control of Cuervo, rather than ending its distribution arrangement with the Beckmann family in 2013, it wasn't prepared to pay silly money for the brand – and, in the years since, necessity has proven to be the mother of invention.
While developing Don Julio into the fourth most valuable Tequila brand, and the fastest-growing in the global top 10, the company has added DeLéon, Peligroso and, most recently, Casamigos for an eye-watering US$1bn.
I'd hesitate to use the word 'niche' when describing a billion-dollar brand, but neither Casamigos, nor indeed DeLéon and Peligroso, feature in Tequila's global top 20. Diageo wanted them for their growth and profit potential in the US, not their established volumes.
It's a strategy that is gaining traction. Look at Pernod Ricard's recent activity: disposing of low-growth ballast including Caribe Cooler RTDs (to Mexican conglomerate Grupo Bepensa), Paddy Irish whiskey, Fris vodka (both to Sazerac Co), Domecq Mexican brandy (to Grupo Emperador Spain and Gonzalez Byass) and, most recently, the Glenallachie malt Scotch whisky distillery (to a private consortium); acquiring Avion Tequila, Monkey 47 gin, Smooth Ambler American whiskey and Del Maguey mezcal.
The latter names all fit the Casamigos template (if not its asking price): far from being among the biggest names in their respective categories, but with huge potential to grow, as well as healthy margins. As a Pernod spokesperson told me when I asked why the company had sold Glenallachie: 'Staying relevant to our consumers requires dynamic portfolio management.'
So expect more of the same: Gruppo Campari buying Bulldog in a deal that could be worth US$90m; Moët Hennessy picking up Woodinville Whiskey Co; Rémy Cointreau acquiring Westland Distillery.
As spirits categories fragment and the tail of so-called 'craft' and independent brands lengthens, the market share of the dominant brands comes under increasing pressure; and the companies that own them need to respond, cherry-picking the dynamic young names that can add the most volume and profit growth.
Viewed through the hindsight-enhanced prism of this characterisation of the modern spirits industry, the decisions of the past begin to look questionable. Leaving aside the incipient global financial crisis, would Pernod really have paid nearly US$9bn for Absolut owner Vin & Sprit in 2008?
And, looking back more than a decade to the same company's acquisition of Allied Domecq in 2005, would it have been quite so keen to sell off Maker's Mark and Laphroaig to Beam?
---