When The Boston Beer Co agreed to combine with Dogfish Head Brewery in May, just-drinks saw this as the sign of a new trend in US craft beer that would see independent brewers seek safety in numbers. A few months down the road - and as the US craft beer market continues its slowdown - other events have confirmed the trend, not least this week's announcement by Japan's Kirin of the acquisition of craft beer stalwart New Belgium Brewing.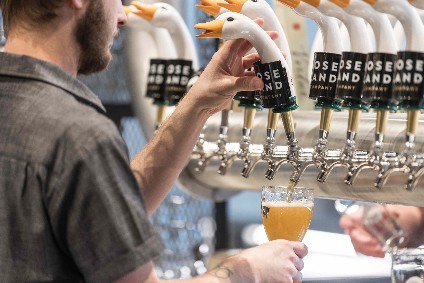 Within the announcement was a statement from New Belgium co-founder Kim Jordan that the purchase was Kirin's first step in building a "collective of breweries" in the US. As one of the veterans of the US craft beer scene, New Belgium will "anchor a US craft beer platform" for Lion Little World Beverages, Kirin's craft beer stable.
If realised, this collective will, in effect, mirror what other multinational brewers have already achieved with their portfolio of US brewers. Anheuser-Busch InBev, for example, has pivoted its craft beer ambitions around the Goose Island brand it bought in 2011. The Chicago beer has since gone global but sits at the centre of an array of regional US brewers housed in A-B InBev's 'High End' stable. Molson Coors, meanwhile, has Tenth & Blake, although the unit's future is unclear after the brewer announced the end of US division MillerCoors and Tenth & Blake head Pete Marino's moved to president of the group's 'emerging growth' operations.
Kirin's move also mirrors the trend among independent US craft brewers buffeted by the winds of slowing consumption and - more recently - the rise of hard seltzer. Some have opted to circle the wagons and take collective shelter, just as Dogfish did with Boston Beer.
In April, Legacy Breweries was formed with the intent of corralling a number of US craft brewers into a beer collective. It started with the purchase of Ninkasi Brewing and, according to trade press reports, Legacy is seeking to build a family of up to 15 breweries in the US midwest and on the east coast. Then, in October, Legacy bought Aspen Brewing in Colorado and Laurelwood Brewing in Oregon, BrewBound reported.
Elsewhere, there are craft beer collectives such as CANarchy, which was formed in 2015 and last year moved up to eighth on the Brewers Association's list of leading US craft breweries by volume. Its brands include former independent star Oskar Blues. Craft Brew Alliance, which was formed 12 years ago through a merger between Redhook Ale Brewery and Widmer Brothers, has also expanded over the years, most recently last year with the acquisition of Appalachian Mountain Brewery, Cisco Brewers and Wynwood Brewing Co. Last week, the collective was fully taken over by minority partner A-B InBev.
Even more recently, craft collective Artisanal Beverage Ventures bolstered its numbers this week with the addition of Bold Rock. In a sign that the collective is seeking strength in diversity, Bold Rock brings a canned cocktail and hard seltzer line to ABV's existing registry of ales, stouts and IPAs.
All of this signals a shift in US craft beer away from lone-wolf independent breweries to larger collectives that share operational costs as well as the bureaucracy of business, something many craft brewery owners didn't plan for when starting out. As the CEO of Craft Brew Alliance Andy Thomas told just-drinks in an interview in 2016: "[These entrepreneurs now] have to worry about the bottom line, they have to worry about return to their financial investors. They have to worry about HR issues, organisational design… . In the good old days for those people, it was them and a couple of buddies."
Meanwhile, it is no coincidence that some of these collectives - Legacy Breweries and CANarchy, at least - are financed by private equity. Banding together gives the instant scale and cost-cutting opportunities private capital looks for when seeking a return on investment.
Ultimately, Like the roving gangs wandering the wasteland in post-apocalyptic movies, these collectives will look to win out through force of numbers, feasting on weaker prey who may, if lucky, be invited to join the pack. Some will enjoy the deep pockets - and distribution and production back-up - of the multinationals, while others will wield the barbed-wire baseball bat of private equity cash. Others, such as Boston Beer and Dogfish, will be the Mad Max-style loners in this (increasingly-tortured) analogy, teaming up with like-minded souls in their struggle for survival.
The alternative? Banishment to the US craft beer market's outer margins, where day-by-day the environment worsens. Other alternatives? Launch a hard seltzer. It might be your only hope.
How concerned should the beer category be about the hard seltzer boom? - Click here for a just-drinks comment
---