Do you remember the Pepsi Taste Challenge? Richard Woodard does, and he sees echoes of it in Bacardi's latest activation for its Oakheart spiced rum brand.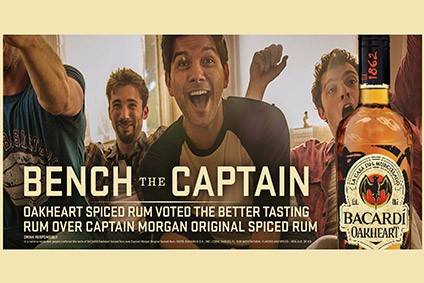 Knocking the competition, whether directly or indirectly, is always a tricky area for marketers. For one thing, in doing so you're acknowledging their presence, giving them more publicity and showing just how worried you are about them. Suggesting that their product is in some way inferior to yours - while it sounds like an obvious tactic to persuade consumers to change their buying habits - also has its drawbacks: Criticism of a brand implies criticism of its consumers for buying that brand in the first place – the very consumers you want to become your loyal friends.
For these reasons, the new campaign by Bacardi for its Oakheart spiced rum brand, which was launched last week, raises a few questions. Based on a taste test comparing non-mixed Oakheart with Captain Morgan Original Spiced Rum – the colossus of the spiced rum segment – Bacardi says consumers preferred Oakheart by a "significant margin". This in turn has inspired the 'All In, All Heart' campaign, urging consumers to 'Bench the Captain' and, in the eyes of some commentators, is a continuation of the 'rum wars' between Bacardi and the Diageo-owned Captain Morgan (the latter launched a UK ad proclaiming that 'White rum has a new captain' in August, just before Bacardi conducted its spiced rum taste tests).
It also revives memories – for those of us of a certain age, anyway – of a famous milestone in the modern history of advertising. The advent of the Pepsi Taste Challenge in 1975 is often credited with changing the face of the US soft drinks market, eroding the long-held dominance of Coca-Cola and building its smaller rival into a powerhouse brand.
Take a look at the ads again now and, beyond the hair and the clothes, what's most remarkable about them is their simplicity. Taste two products, make your preference and then be astounded by the result: you picked Pepsi.
But, analysis of the campaign suggests it wasn't as successful as one might think. There was no direct sales spike as a result, and the gradual erosion of Coke's market share had far more to do with Pepsi's long-term positioning as a youth product, coupled with celebrity endorsements from the likes of Michael Jackson. It was also boosted by a factor which marketers can't control – the reaction of the competition. Coke went on the defensive and lost its nerve, leading eventually to Project Kansas and the disastrous reformulation of 'New Coke'.
In this respect, at least, the Pepsi Challenge worked: Coca-Cola believed the hype and reacted, losing vast amounts of credibility in the process. The trouble is, 'taste tests' are notoriously unreliable, according to Malcolm Gladwell in his book Blink. When people take sips of competing products, as in the Pepsi Challenge, they'll often plump for the sweeter drink. Give them a whole can, or let them try it for a week or two, and their reaction will often be very different. Ultimately, it wasn't the Pepsi Challenge that converted cola drinkers – it was a variety of other factors, from the endorsement of Michael Jackson to Coca-Cola's passive-aggressive reaction.
Where does this leave Bacardi? You could argue that, in the spiced rum arena, the brand has little to lose. According to Impact Databank figures for 2014, Bacardi Oakheart sold 180,000 cases, versus 6.3m cases for Captain Morgan.
But, two important factors are different here: first, the taste tests are even less credible in this case. Not only are they prey to the Gladwell theory outlined above, they also don't reflect the way that spiced rum is consumed in the real world: mixed. There's a world of difference between drinking a spiced rum neat and diluting it with large amounts of Coke (or Pepsi).
The competitive landscape is also different. Sure, Captain Morgan is the dominant player, but other brands have made rapid inroads recently, including William Grant's Sailor Jerry (750,000 cases, says Impact Databank) and Proximo's The Kraken (320,000 cases). This isn't a two-horse race.
But, ultimately, the one lesson Bacardi should learn from Pepsi is that dissing your number one rival won't work on its own – it's what you do next that counts. The Pepsi Challenge's greatest success lay in getting the brand talked about, raising its profile massively and building a base on which to layer all those celebrity endorsements and youth-oriented brand messages.
It's also a marketing campaign from a different age, and its disarming simplicity just won't work today without more support. Look at the modern incarnation of the Pepsi Challenge, which involves a social media-focused mix of challenges geared around social responsibility and popular culture, employing famous names such as Usher, Serena Williams, James Rodriguez and Usain Bolt.
Defining yourself qualitatively in relation to a rival brand is a risky strategy at the best of times, and it can only be really effective if it's accompanied by a raft of other marketing initiatives.
The Oakheart Taste Test and 'Bench the Captain' will only work if Bacardi treats it as the beginning of a concerted and co-ordinated marketing push – not the end of one.
---