Diet Coke is having a revamp - and not a moment too soon. The old war-horse of the low-sugar CSD market is nigh on 36 years old and looking a bit dusty. Owner The Coca-Cola Co will be hoping the announcement in the US this week of a range of sparkly new flavours will give an artificial sweetener boost to a diet market that has crashed.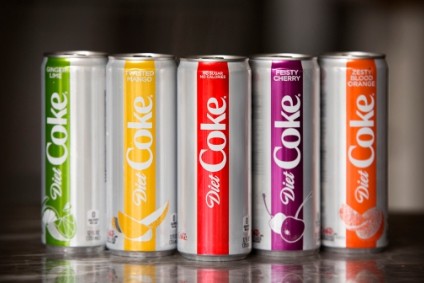 just-drinks has reported on the great US diet soda decline for a few years now, yet it refuses to level off. In Nielsen figures cited by Cowen & Co analyst Vivien Azer last week, diet CSDs were down 4% in volumes for the 12 weeks to 30 December, outpacing overall CSD falls. Diet Coke itself was down 6% in the same period, while PepsiCo's Diet Pepsi suffered even more with an 8% volumes drop. Action is clearly needed.
What is interesting about the declines is that they persevere despite overall trends for health and wellness in the US market. Alternatives such as zero-sugar sparkling waters and functional drinks such as kombucha are growing in popularity, which suggests consumers are tired of the low-sugar old-guard and keen to try something new.
Enter Coca-Cola's overhauled diet range. The original Diet Coke (known as Coke Light in some global markets) remains in place, but has been joined by four flavours with names such as Zesty Blood Orange and Feisty Cherry. Meanwhile, the whole range has been repackaged in sleek 12oz slimline cans. In shape and design, it is not a million miles from Australian bottler Coca-Cola Amatil's Colour your Summer reinvention of Coca-Cola in 2015. It may be no coincidence that, according to Coca-Cola, the project to redesign Diet Coke started two years ago.
Just like CCA's Colour Your Summer push, the new Diet Coke range is targeted squarely at younger consumers - Millennials that appear to be leaving the diet soda category because of fears over artificial sweeteners. Speaking after the launch, Rafael Acevedo, Coca-Cola North America's group director, said the overhaul would "[recast] the brand for a new generation", and though the range continues to be sweetened with aspartame and acesulfame potassium, the company will be hoping the wider flavour options entice new consumers in.
There are other likely reasons for the revamp. A bolstered diet portfolio would help protect Coca-Cola's CSD sales from further anti-sugar regulation, currently making in-roads with legislative bodies across North America. More importantly, it may give fresh meaning to the decades-old Diet Coke brand, which has lost its former utility as a no-sugar drink since the launch in 2005 of Coke Zero, and more recently the rebranded and reformulated Coke Zero Sugar. Whether Coke Zero Sugar actually tastes more like regular Coke - as Coca-Cola insists - is open for discussion. But what is apparent is that Coke Zero Sugar's bolder brand imaging does a better job of attracting consumers than Diet Coke. Coca-Cola CEO James Quincey said in July last year that the Coke Zero rebrand accelerated global volumes growth for the line from mid-single digits to somewhere in the teens.
Left behind, Diet Coke has been searching for an identity, and Coca-Cola will hope the flavour expansion and funky packaging will offer it one in the years ahead.
What the overhaul has already done, however, is call into question the future of Coca-Cola's 'One-Brand' strategy for the Coke family. Launched with great fanfare in Paris in January 2016, the project drew the four different Coke versions - regular, Diet, Zero and Life - into one unified look that attempted to spread Coca-Cola's awesome brand power more evenly. With this week's overhaul, Diet Coke appears to have made a break from the pack - at least in the US.
Asked about this, a Coca-Cola spokesperson told just-drinks that the company is adopting the One Brand plan in the US for regular, Zero and Life but not for Diet Coke because it "has such a large and loyal fan-base".
"Instead, Diet Coke is its own distinct brand with a new modern visual identity and sleek new packaging," the spokesperson explained.
Whether this will happen in other markets is not yet clear. Coca-Cola is saying that, for now, the Diet Coke overhaul is just for the US and Canada. "Other markets around the world are exploring future plans for the brand, or have already adopted 'One Brand' packaging for Diet Coke within the Coca-Cola trademark," it said this week.
But that the company has made the Diet Coke changes in its biggest global market shows just how keen it is to bring the beleaguered brand back to life.
---