The recent unveiling of Pernod Ricard Asia's plans to produce China's first domestically-sourced single malt whisky is undoubtedly a landmark moment in brown spirits. Category commentator Neil Ridley considers whether Chinese whisky could become a contender to the other 'world whiskies'.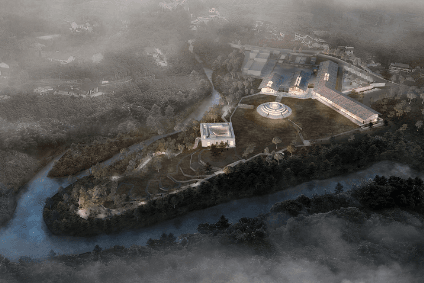 There's an old Chinese proverb: 'Bù rù hu xué yan dé hu zi'. The loose translation reads: 'Without entering a tiger's den, how can you hope to fetch a tiger cub'. It's not dissimilar in sentiment to the familiar phrase 'fortune favours the brave' or 'nothing ventured, nothing gained'.
All of these can be applied to the upbeat mood late last month of Pernod Ricard's China MD, Jean-Etienne Gourgues. At the end of August, Gourgues announced the group's intention to invest CNY1bn (US$150m) over the next ten years in a totally new, state-of-the-art whisky distillery at Emeishan, in the mountains of Sichuan province.
The decision to plough such a staggering sum into what is effectively a new spirits segment is indeed a brave move - and one that won't have been taken lightly by all involved. Given Pernod's commanding position in China, it's also a statement of its intent for the next decade, with one eye on the forecast growth trajectory for whisky in China.
I can't help thinking back to what it must have been like almost a century ago, when similar plans were unveiled in Japan by a certain duo you may have heard of: Shinjiro Torii and Masataka Taketsuru. If you don't know them, the two men were the architects of one of the biggest revolutions the whisky world has experienced in its chequered history.
As the protagonists in the fortunes of Kotobukiya Ltd's (now Suntory) Yamazaki distillery, both men had done their preparations well. After extensive research into distillation by Taketsuru-san in Scotland, learning his craft at both the Longmorn and Hazelburn distilleries, the site of the new facility was to be situated - rather like the new Chinese one at Mount Emei - near an exceptional water source, high in the Kansai plains.
Once completed in the early 1920s, the new distillery's ethos, also similarly echoed in Gourgues' speech, was one of national pride and a positive celebration of change: Kotobukiya's Shirofuda, or White Label whisky, was released in 1929 accompanied by a bold advertising campaign. "Wake up!", the tag-line read. "The time has gone when you have to appreciate imported goods. Now, for the first time, superb domestic whiskies are available in Japan."
The rest is history.
Well, not quite, as it happens. Despite the best of intentions, White Label wasn't a commercial success at all. This embryonic foray into Japanese whisky was largely regarded as a failure. It would take further decades of reinvention, reinvigoration, a great deal of foresight - and probably a lot of luck too, for the likes of Suntory and Nikka (the company Taketsuru went on to found after breaking from Torii in the mid 1930s,) to build Japanese whisky into the global phenomenon it is today.
Ultimately, an undeniable sense of Japanese craft and a steadfast belief in creating something uniquely Japanese are at the heart of the country's whisky success - both domestically and globally.
The whisky market in China is indeed hugely exciting. I saw this feverish positivity first-hand when I joined about 10,000 young Chinese consumers to explore Scotch at the Whisky L event in Shanghai two years ago. I quickly realised how much we in Europe take the spirit's touchpoints and popularity for granted and just how much potential there is for the broader whisk(e)y category in China.
The baijiu conundrum
The category is eclipsed entirely by the baijiu market, however, and this must surely take up a lot of Pernod Ricard's thinking around the company's latest venture.
Indeed, Pernod Ricard is faced with something of a conundrum for the new whisky, which is due out in 2023. By playing too heavily into the already-popular Scotch cues of heritage, provenance and experience, will the new spirit simply be seen by the domestic market as a potentially inferior, younger, me-too product? After all, one of the primary reasons Scotch and Japanese whiskies are so highly sought after in China is a combination of their undoubted prestige driven by time, age and scarcity.
On the other hand, by following the domestic flavour profile loved by mostly Baijiu drinkers, will there be future limitations on just how far the new Chinese whisky can become a popular spirit in other, more mature global markets, where baijiu is relatively unknown and particularly challenging on the palate?
So far, despite the whole project being at a very early stage, all the noises from Pernod Ricard Asia seem to be the right ones. Leverage of the group's extensive technical experience from Scotland and Ireland has already begun and ultimately, its plans are to find a figurehead Chinese master distiller: an invaluable resource; something which Suntory has used brilliantly as a halo, (namely with the multiple award-winning master blender Shinji Fukuyo,) when promoting its range of whiskies both domestically and globally.
One final thing which resonates well with me comes from a comment made directly by China MD Gourgues in his recent just-drinks interview. "It's not about turning baijiu drinkers into malt whisky drinkers," he said. "It is adding an occasion to enjoy the product."
Smart words indeed. One of the reasons Japanese whisky took off domestically was the discovery and decades of nurturing given to the highball and related serves, which presented existing wine and beer consumers with a reason to explore the spirit socially in the on-premise and with food.
If the first Chinese whisky can achieve this quickly and consistently, then fetching that cub from the tiger's den should be a less terrifying ordeal.
Pernod Ricard's Chinese malt whisky distillery - just-drinks speaks to China MD Jean-Etienne Gourgues and Asia marketing head Tracy Kwan
---