The latest brand to join the quest to recruit new Coganc drinkers is Remy Cointreau's Remy Martin. The company revealed its new campaign to analysts and journalists at its headquarters in Cognac this week, with the aim of turning the consumer view of "I respect Remy Martin, they have a great product" to "I love Remy Martin, it's the brand for me." Like many other recent launches, the company hopes to go beyond getting consumers to simply buy a product - they want them to experience the brand.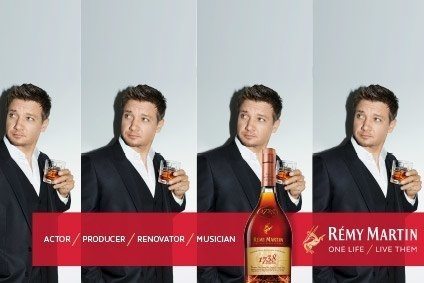 Impressive management
Whether you're sold on the 'slash generation' message or not, the move to focus on the consumer is important in Remy Cointreau's overall approach. When you look at the background of the new management team, it's easy to see why a focus on the above-US$50 market, and emphasis on brands, is now at the fore. CEO Valérie Chapoulaud-Floquet is ex L'Oreal and Louis Vuitton and then you have Remy Martin CEO Eric Vallat, who is ex Dior and Louis Vuitton. Next comes Louis XIII executive director Ludovic du Plessis, fresh from spending several years in New York where he looked after Dom Perignon and Moet.
Analysts who attended the investor relations event are buoyed by the new management. Nomura's Ian Shackleton describes the team as "impressive", saying: "The management team within Remy Martin has changed significantly since the appointment of the new CEO 18 months ago," before mentioning backgrounds in luxury.
Meanwhile, Societe Generale's Laurence Whyatt describes Remy Cointreau as "one to watch".
Beyond VS
To mark its commitment to above-$50, the company has already exited the VS market and champions two variants that sit above VSOP. Analyst Whyatt adds: "The Remy Martin marketing campaign, which focuses on mid-level products 1738 (Western world) and Club (Asia), which are positioned between VSOP and XO, looked very slick and persuasive. While limited information is available on these products, we suspect that they contain similar raw materials to VSOP, and therefore generate significantly better margins..."
Vallat also reassured that XO has not been forgotten, with news around the brand expected "in the next year".
Louis XIII luxury
At the luxury end, Louis XIII sits, strategically, away from the Remy Martin brand. According to du Plessis, there isn't really a direct rival to Louis XIII in Cognac terms. But, the former Dom Perignon man isn't focused on a Cognac rival - for him the competition lies in other categories, some not even liquid. He talks about other luxury items, including shoes, and a need to "rejuvenate the target drinker" as well as a need to have "direct contact" with consumers. "We don't have our own boutique but we need to know our clientele," he says. The company makes use of top hotel bars and restaurants to act as its shop window in what it calls 'fortresses' - "the staff are totally devoted, behind Louis XIII," he adds.
Speaking about attracting new drinkers, du Plessis says the aim is to lower the target audience from 45 to 35, attract female drinkers and generally make Louis XIII aspirational to a wider group of consumers. Du Plessis' "halo effect of organic endorsement" is set to include several different types of people, from celebrities to tech entrepreneurs, influential women and art dealers.
In terms of geography, Louis XIII has been a China-centric brand for the company, something du Plessis hopes to change, citing the US, Africa and Russia as a few key areas for growth. The grand plan is to return volumes back to 2012 levels, though now with less dependence on China. At about EUR2,700 a bottle, Louis XIII is not a snip but there are 13m millionaires in the world, according to Cap Gemini & RBC's World Wealth Report 2013.
Barclays analyst Simon Hales describes Louis XIII as a "unique brand proposition "and one which Remy has "perhaps under-developed in the past". He says: "Management are now fully engaged in turning Louis XIII into a luxury product in its own right, one which, in the long run, may perhaps not only be known for its exceptional spirits liquid but also one which might be able to develop offerings in adjacent high-end luxury categories."
As well as the new campaign, set to launch on 18 November, the company has also committed to drive innovation within Louis XIII, stating that innovation and or/communication can be expected every 12 to 18 months. As well as November's activation, consumers can look forward to a 5cl miniature of Louis XIII - yours for a cool EUR500.
---