just-drinks' beer commentator, Larry Nelson, starts his 2016 output by looking at three of the more recent brewing moves around the world.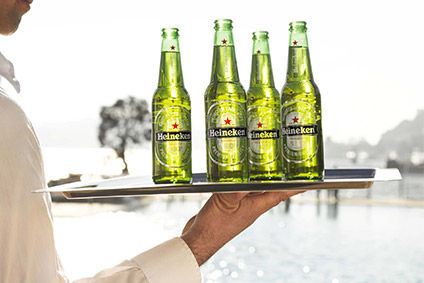 Ground-breaking marketing initiatives in brewing are like the old adage about buses: you wait forever for one to come along and then suddenly there are three at once. And, so it is to kick off 2016, with new approaches from multinational brewing concerns times three. One is patently common-sensical, the second long overdue, while the third charts waters unknown for purveyors of international beer brands – nay, sellers of drinks alcoholic of all description.
Let's start with a clear-cut winner, with news earlier this month of two craft products from Kona Brewing in Hawaii now being distributed by in Brazil by market leader AmBev. The multinational brewer connection is, of course, AmBev's parent, Anheuser-Busch InBev. Beyond its AmBev assets ABI holds a 32% stake in the publicly-traded Craft Brewer Alliance, which acquired all of Kona back in 2010.
With similar cultural references to sun, sand, and superb beaches, there's the possibility that Brazilians will identify with the Kona brand image. The beers themselves, meanwhile, comprising a lager and golden ale, should be a match with existing Brazilian beer drinker preferences.
The takeaway here is that ABI is starting to make more from its past acquisitions of American craft brewer portfolios. The company is also resisting throwing everything at the wall and seeing what sticks; rather, choosing a portfolio, probably of relevant beer styles, and utilising its scale to - presumably - secure permanency in market.
Contrast this with an effort dating back to 2014 when Heineken introduced in several markets across Western Europe beers from Monteith's, a New Zealand craft brewer owned by DB Breweries that was in turned owned by Asia Pacific Breweries – and thus subsequently became wholly owned by the Dutch brewer in late-2012. The ambitions back then were modest – a launch party in London's trendy Soho, a few thousand hectolitres per market the initial target. And since then, well, if Monteith's is still available in a pub or bar near you, please do let us know.
Scattergun approaches won't work better with craft beer any more than they would with established global brands. And, multinational distribution and marketing muscle can be used effectively to expedite the success of a craft newcomer.
All of which makes Heineken's ambitions for Lagunitas beyond its American base one of the more anticipated reveals in next month's round of year-end financial results. Analysts should be champing at the bit to know when and where Lagunitas beers will appear.
ABI also deserves congratulations for this month's announcement that it will be introducing full ingredient and nutritional information for its multi-market beers. What's interesting here is the nutritional breakdown. Take a moment to visit www.tapintobeer.com to see the detail on offer, especially in regard to calorific values.
Publication of nutritional information by the brewing industry is long overdue. Up to now, calorie counts have been treated as an ancillary to marketing efforts – consider Miller64 in the States and Carling 99, a rebranding in early-2009 of the UK's leading lager that was intended to attract female drinkers to a male-orientated brand.
And, that's not a satisfactory state of affairs. We're all part of increasingly health-conscious societies, where beer drinkers may not be aware of how many calories are in either their brand and serving size of choice, but can find out at the counter of their local McDonald's chapter and verse regarding the calorific and nutritional information of a Big Mac. If fast food purveyors have the upper hand on disclosure of information, well, you definitely have a problem.
Provision of nutritional information should also carry some weight in the pitched battle the alcoholic drinks industry has been waging with governments and health lobbyists – nothin' to hide, here, folks. And, if there's a concern that such information may not put beer in a nutritionally-favourable light compared to, say, fruits and vegetables, it boils down to this: Consumers have a right to know what they're ingesting.
While ABI's efforts are underway, it may be a while before the results show up on the packaging of their brands in your market. After allowing for changeovers in packaging materials and presumably some local regulatory labelling excitements, the Brazilian-Belgians predict that 80% of their brands across Europe will carry the information by the end of 2017.
Finally, but certainly not least, we have Heineken's latest execution in its effort to position its namesake lager as the choice of responsible drinkers everywhere. Dating back to 2011 with 'Sunrise' and, subsequently, 'Dance More, Drink Slow', the message has been unisex, appealing to urbanities that a night on the town goes much better when not drinking to excess.
There's a change of tack this time around, with 'Moderate Drinkers Wanted', which will be rolling out globally during 2016. The ad, and I'm quoting here directly from Heineken's press release on the subject, offers a "clear message that women prefer men to be moderate drinkers."
It's not clear that using what essentially amounts to sex appeal to get one's message across is a great leap forward in the social politics of our day and age, nor for the advertising of beer brands in any way whatsoever. (The real-life equivalent of Mad Men's Don Draper must be smiling somewhere.) Yet, for males from LDA to 24 hoping to meet someone - let's be honest - this should have some resonance. And, the ball is in Heineken's court as to where a male-voiced version of this lament is in the offing. It should be: it's not just men who are abusing alcohol; sadly, increasingly so, the concern is also with female drinkers.
What does stand out is the shot at the end of the ad where the man at the bar refuses to accept another Heineken from the predictably-attractive and suitably-impressed female bartender. Can you think of another example where a brand owner has had the courage to have an order of their beer refused by the drinker in question?
Interesting, this.
What ties together these three initiatives? They're all best practice that can be replicated elsewhere in your company and corner of the world. Happy New Year, everyone.
---